The peak Fed Funds rate fell by 8bp on Monday to 4.93% for the May 2023 FOMC meeting, after having crossed 5% last week. Treasuries sold-off on Monday with yields moving 4-6bp higher across the curve. In the credit markets, US IG CDS spreads tightened by 1.1bp and HY CDS spreads saw a 1.5bp tightening. The US Composite PMI, which tracks the manufacturing and services sectors, fell to 47.3 in October from a 49.5 print in September highlighting an economic contraction in the private sector, as services activity fell. US equity markets rallied on Monday, with the S&P and Nasdaq up 1.2% and 0.9% respectively.
European equity markets rallied too yesterday. EU Main CDS spreads tightened 3.3bp and Crossover spreads tightened by 16.8bp. Similar to the US, Eurozone's October PMI fell to 47.1 from 48.1, hinting towards a further economic contraction in the region. Asian equity markets have opened mixed today. Asia ex-Japan CDS spreads saw a sharp widening by 13.1bp, touching a decade high, with a sell-off in Chinese stocks. Bloomberg notes that this is on concerns of President Xi Jinping's tightening government control stifling China's economy and private enterprise.
---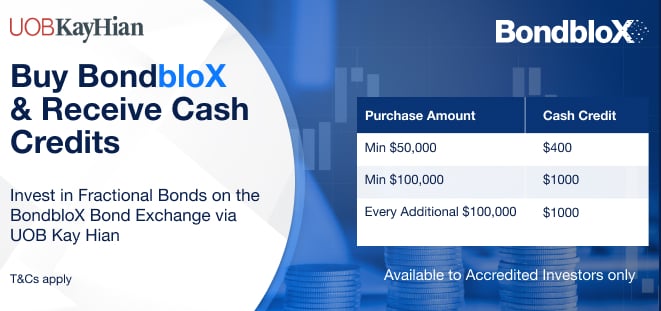 ---
New Bond Issues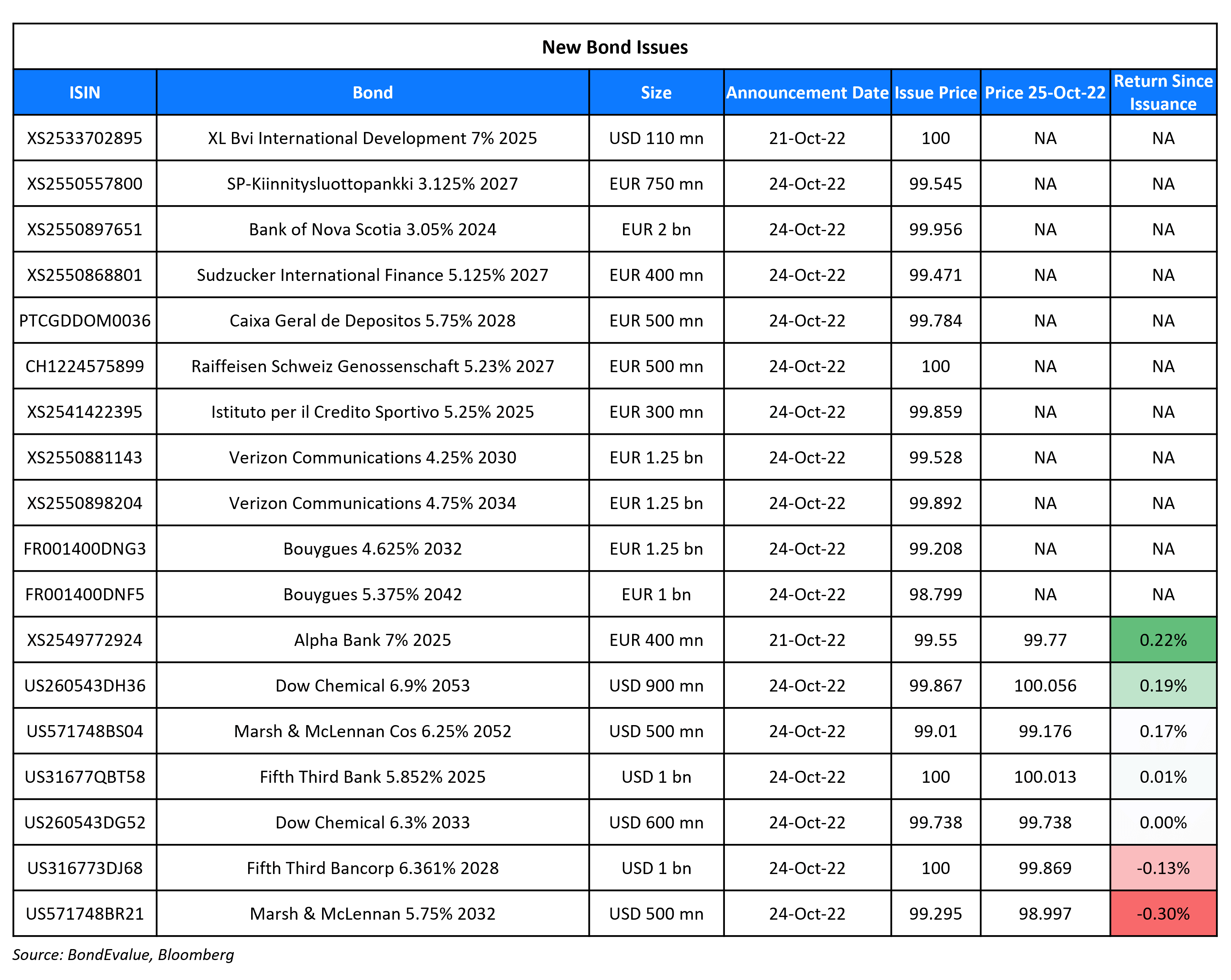 Verizon raised $2.5bn via a two-tranche deal. It raised:
€1.25bn via a 8Y bond at a yield of 4.321%, 20bp inside initial guidance of MS+140bp area.
€1.25bn via a 12Y bond at a yield of 4.762%, 20bp inside initial guidance of MS+175bp area.
The senior unsecured bonds have expected ratings of Baa1/BBB+/A-. Proceeds will be used for general corporate purposes, which may include the repayment of outstanding short-term indebtedness.
New Bonds Pipeline
Export Finance Australia hires for $ 5Y bond
Aozora Bank hires for $ 3Y Green bond
Rating Changes
Term of the Day:

Sukuk
A Sukuk is a sharia-compliant fixed income instrument that essentially works similar to bonds. In a Sukuk, key differentiators vs. conventional bonds are: – Investors share partial ownership of an asset rather than it being a debt obligation by the issuer – The pricing is based on the underlying value of assets rather than credit worthiness – The holder receives a share of underlying profits rather than interest payments (considered 'riba') Sharia compliance broadly implies that any profits derived from these funding arrangements must be derived from commercial risk-taking and trading only; that interest income is prohibited on lending activities and; that the assets must be halal. To learn more about sukuk, click here
Talking Heads
On Global Junk-Bond Sales Drop Most Ever With No Signs of Recovery
Nick Kraemer, head of ratings performance analytics at S&P Global
"We are so far off everything recorded in the last 10 to 12 years… Companies at some point will have to return to primary markets, but for now the pipeline is still thin and upcoming maturities in the next few months appear to be very limited
James Gorman, chairman and chief executive officer of Morgan Stanley
"This is an environment where it behooves management to be prudent, but balanced"
On Last Pillar of Credit 'Flashing Red'  – Janus Henderson 
"What started as a liquidity-induced downturn for credit is likely to become a fundamental downturn as credit quality is impacted by central banks' relentless pursuit of combating inflation… Positioning portfolios for recession, heightened volatility and a deterioration in credit quality is prudent… As interest rates and company cash cushions move in inverse directions, some corporates will struggle to repay their debts… we see a shallower default cycle and this will help underpin significant dispersion in performance across different industries and sectors"
On the need to get policy rate to a bit above 4.5%, then hold – Chicago Fed's Charles Evans
"Front-loading was a good thing, given how far below neutral rates were. But overshooting is costly, too, and there is great uncertainty about how restrictive policy must actually become, so this is going to put a premium on the strategy of getting to a place and a level where policy can plan to rest and evaluate data and developments"
Top Gainers & Losers – 25-October
-22*