S&P ended 0.4% lower while the Nasdaq was flat yesterday. Sectoral losses were led by energy, down 2.2%, followed by Financials, Healthcare and Real Estate, down over 1%. the US 10Y Treasury yield rose slightly by 2bp to 1.98%. European markets were lower with the DAX, CAC and FTSE down 2%, 2.3% and 1.7% each. Brazil's Bovespa closed 0.2% higher. In the Middle East, UAE's ADX was up 0.8% and Saudi TASI closed 1.5% higher. Asian markets have opened with a broad negative bias with the HSI down 0.7%, STI and Nikkei down 0.2% each, while Shanghai was up 0.4%. US IG CDS spreads were 0.5bp tighter and HY CDS spreads were 0.6bp wider. EU Main CDS spreads were 1.1bp wider and Crossover CDS spreads were 7bp wider. Asia ex-Japan CDS spreads were 4.5bp wider.
Mexico's deputy central bank Governor Jonathan Heath expects the board to raise its key interest rate by a quarter-point next month, assuming the U.S. Federal Reserve delivers an increase of that size and there are no other surprises.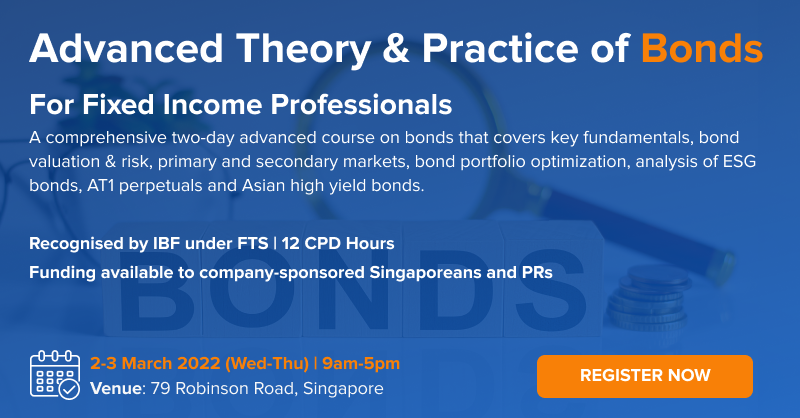 New Bond Issues
Central Nippon Expressway $ 5Y climate resilience at MS+high 50bp area

BNP Paribas S$ 10NC5 at  3.3% area
New Bonds Pipeline
Aluminium Corporation of China hires for $ bond
Midea Group hires for $ 5Y green bond
Beijing State-owned Capital Operation and Management hires for € 3Y bond
Zhengzhou Airport Economy Zone Xinggang Investment Group hires for $ bond
Dongtai Communication hires for $ 65mn 180-day bond
Kalyan Jewellers India hires for $ 5Y bond
Electricity Generating (EGCO) hires for $ 7Y or 10Y bond
Petron hires for $ 7NC4 bond
Rating Changes
Term of the Day
TIPS 
TIPS or Treasury Inflation-Protected Securities are fixed income securities issued by the US Treasury whose returns are linked to the inflation rate. TIPS provide investors protection against inflation by adjusting the principal higher with inflation and lower with deflation, as measured by the Consumer Price Index (CPI). At maturity, investors are paid the higher of the adjusted principal or the original principal. Interest on TIPS is fixed, paid out twice in a year and is applied to the adjusted principal. As investors expect inflation in the US to climb higher, demand for TIPS is likely to increase. TIPS are therefore a measure of real yields which have been negative since mid-2019. Currently, the 10Y TIPS yield is at -0.52%
Talking Heads
On Bond Traders Overpricing a Hawkish Fed – JPMorgan's Kolanovic
"We believe risky asset markets have mostly adjusted to monetary policy shifts by now… Short-term rates markets have likely moved too far vs. what CBs will ultimately deliver in hikes this year…. While the risk of conflict in Ukraine is high, it should have limited impact on global equity markets and would likely prompt a dovish reassessment by CBs… We expect risky asset markets to rebound as they digest these risks and sentiment improves, aided by inflows from systematic investors and corporate buybacks."
On Pimco Saying that Case for Subzero Real Yields Holds Despite Inflation
Joachim Fels, Pimco's global economic advisor
"What has not changed has been the fundamental global savings glut. That helps to explain why people are willing to invest at low real — or even negative — real interest rates… The pandemic was a shock, and has increased the desire for people to save more for precautionary reasons. And this contributes to depressing real interest rates. So that fundamental force has not changed, and if anything it has become stronger."
On Goldman Seeing a Big Change Coming to the Bond Market
Hatzius & Co.
"While bond market sensitivity to inflation data has picked up to above-normal, it remains lower than in 2018 and just one-third as large as it was in the late 1970s and early 1980s.These lower-than-warranted sensitivities may be one reason financial conditions haven't tightened very much"
On Credito Real's Missed Bond Payment Fuels Sector Risk – Moody's
"The missed payment is credit negative for other Mexican finance companies because it will reduce their market access, decreasing their ability to fund credit growth or refinance maturing debt".
On EM Bonds Could Be Way to Deal With Fed Tightening
Fran Rodilosso, VanEck head of ETF fixed income
"We believe emerging market bonds remain part of the solution set, with attractive yield versus duration tradeoffs in some EM asset classes, and without as significant a quality or liquidity tradeoff as other high yielding options represent"
On Vanke saying the 'golden age' of China's property is over as bellwether developer girds for hard times
Chairman of China Vanke, Yu Liang
"We are on our last legs, which means there are no other options… The company's income this year will definitely drop significantly. We must let everyone know that we are now fighting a war, and everything is not the same as before… Many of us have not comprehensively understood the situation we find ourselves in"
Top Gainers & Losers – 15-Feb-22*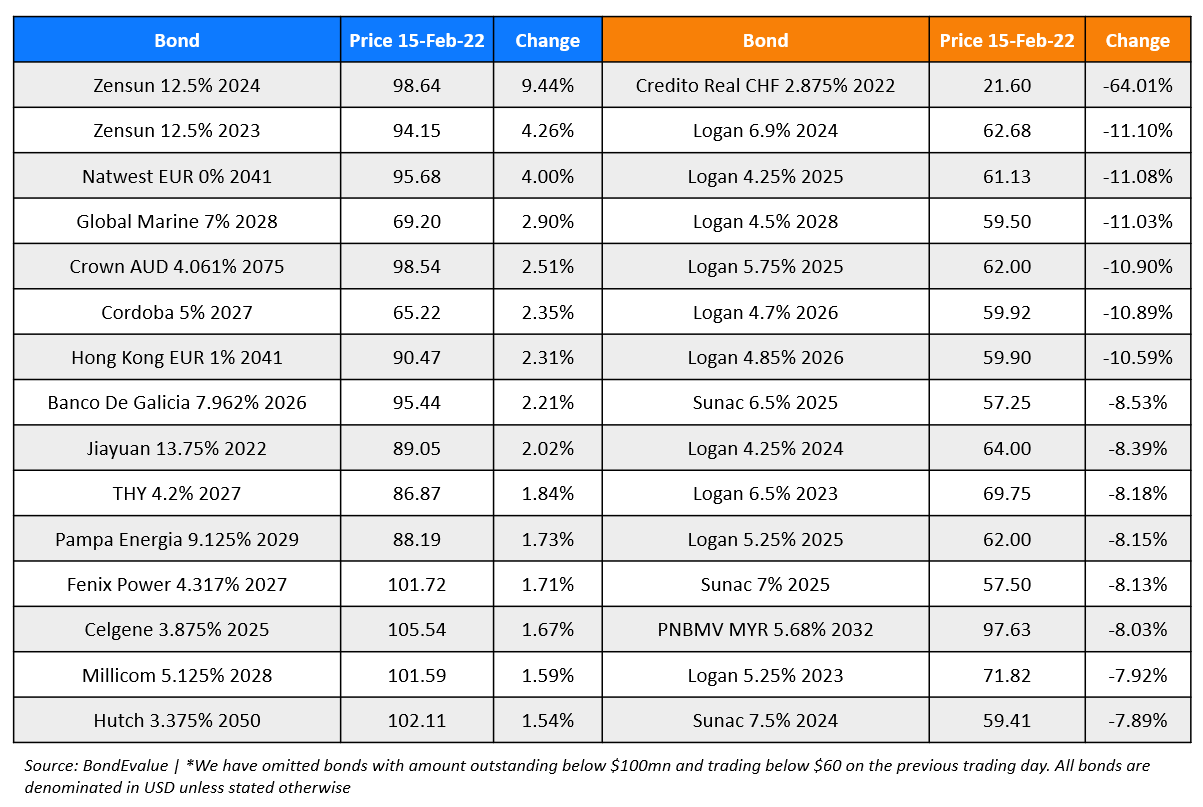 Other Stories