US equity markets ended lower on Tuesday with the S&P and Nasdaq down 0.6% and 0.4%, after the Memorial Day holiday on Monday. US 10Y Treasury yields were 2bp higher to 2.84%. European markets were broadly lower with the DAX and CAC down 1.3-1.4%, while FTSE was marginally up by 0.1%. Brazil's Bovespa closed 0.3% higher. In the Middle East, UAE's ADX was up 1.5% and Saudi TASI was up 0.3%. Asian markets have opened mixed today – Shanghai was flat and HSI was down 0.8%, while STI and Nikkei were up 0.5% and 0.7% each. US IG CDS spreads widened bp and HY spreads were 4.2bp wider. EU Main CDS spreads were 3.30.7bp wider and Crossover spreads were 16.9bp wider. Asia ex-Japan CDS spreads were 2.8bp wider.
The US consumer confidence index fell to 106.4 in May from 108.6 in April. Separately, Eurozone inflation hit a record of 8.1% in May amid surging energy costs.
---
Advanced Two-Day Course on Bonds | 7-8 June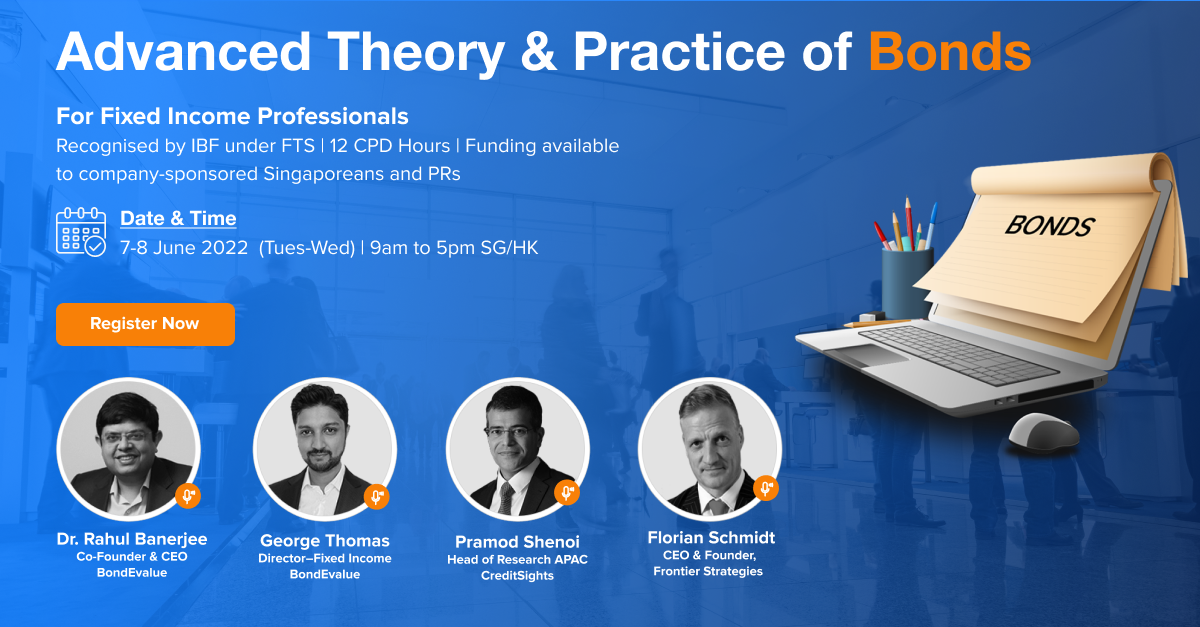 This course, designed for private bankers, wealth managers and advisors, will cover topics such as:
Bond Valuation & Risk
Bond Portfolio Optimization & Use of Leverage
New Bond Issues
Secondary Trading of Bonds with a Live Simulation
Using Excel to Understand Bond Calculations
ESG Bonds
Perpetual/AT1 Bonds
Asian High Yield Bond Analysis
When: 7-8 June 2022, 9am – 5pm Singapore/Hong Kong time
Where: 79 Robinson Road, Singapore (in-person) and Virtual via Zoom for those outside Singapore
Fees: SGD 2,140 per candidate. 80/90% IBF funding is available to eligible company-sponsored candidates from Singapore.
---
New Bond Issues
OCBC S$ Perp NC5 AT1 at 4.25% area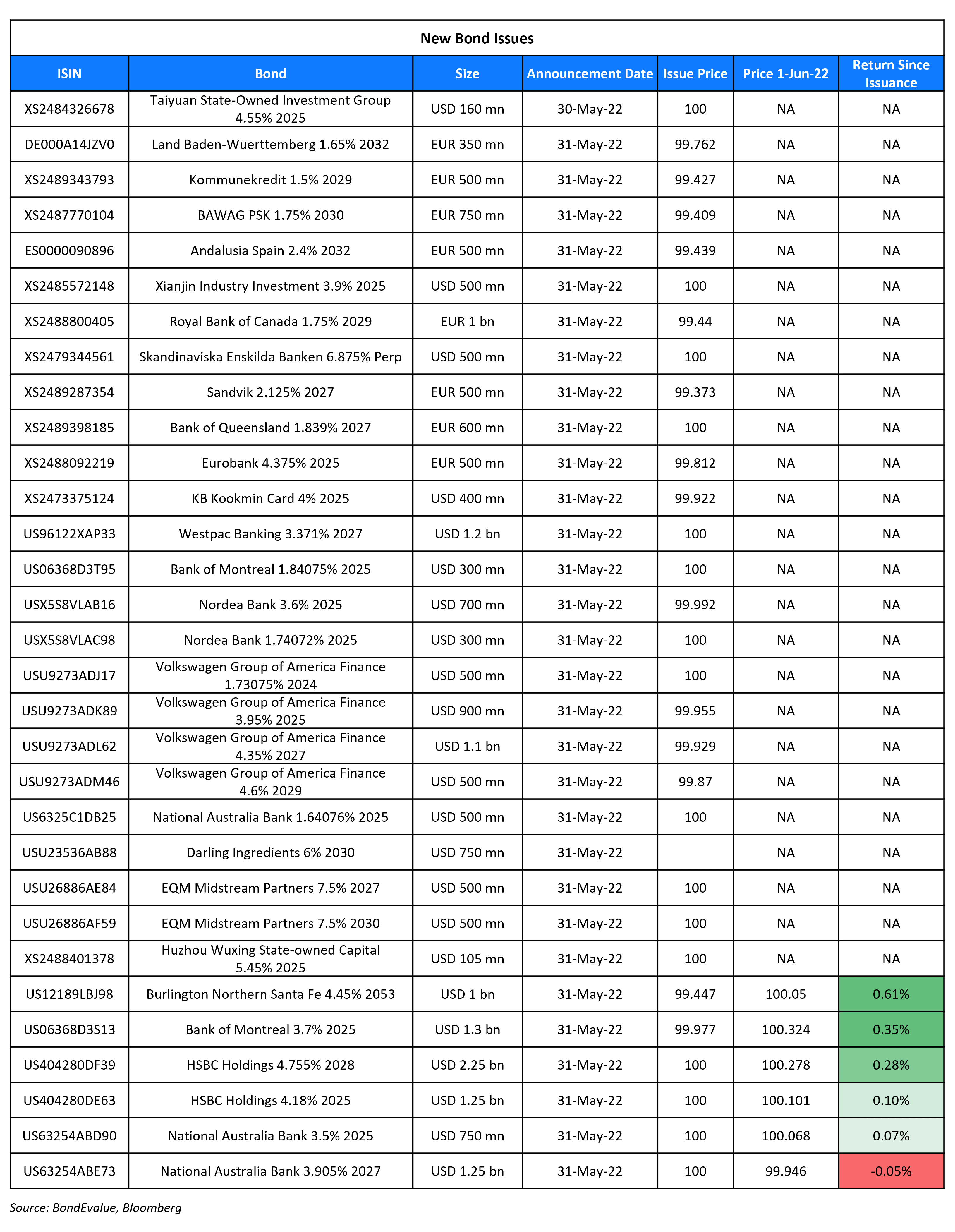 KB Kookmin Card raised $400mn via a 3Y sustainability bond at a yield of 4.028%, 40bp inside initial guidance of T+170bp area. The senior unsecured bonds are rated A2, and received orders over $3bn, 7.5x issue size. Asset and fund managers took 75%, insurers/sovereigns/supranationals/agencies took 13%, and banks/private banks took 12%. Asia Pacific accounted for 91% and EMEA took the balance 9%. Proceeds will be used to finance eligible green and social projects in-line with the company's green, social and sustainability financing framework.
NAB raised $2.5bn via a three-trancher. It raised:
$750mn via a 3Y bond at a yield of 3.5%, 20bp inside initial guidance of T+100bp area
$500mn via 3Y FRN at SOFR+86bp vs. initial guidance of SOFR equivalent area
$1.25bn via a 5Y bond at a yield of 3.905%, 15bp inside initial guidance of T+125bp area
The senior unsecured are unrated. Proceeds will be used for general corporate purposes.
Westpac raised $1.2bn via a 5Y yankee bond (Term of the Day, explained below) at a yield of 3.371%, 2bp inside initial guidance of MS+80bp area. The bonds have expected ratings of Aaa/AAA (Moody's/Fitch). The proceeds will be used for general corporate purposes. The bonds are issued by Westpac Banking Corp and guaranteed by BNY Trust Co of Australia Ltd and in its capacity as trustee of Westpac Covered Bond Trust.
Arada Development raised $350mn via a debut sukuk at yield of 8.125%, 12.5bp inside initial guidance of 8.25% area. The unrated bonds received orders over $720mn, 2.1x issue size. The company is the largest developer in Sharjah, 40% owned by Sharjah's deputy ruler and 60% owned by Prince Khaled bin Alwaleed bin Talal Al Saud of the Saudi royal family, Reuters notes.
New Bonds Pipeline
Korea Electric Power mandates for $ green bond
Kyobo Life hires for $ Sustainability bond
Busan Bank hires for $ Social bond
Continuum Energy Aura hires for $ Green Bond
Jubilant Pharma plans $ bond
Sael Limited hires for $ 7Y Green bond
Rating Changes
Term of the Day
Yankee Bond
These are a type of Eurodollar bonds issued and traded in the US and denominated in USD. In essence, if a non-US based company issues a USD bond which is traded in the US, the bond is considered a Yankee bond. This is in comparison to a Eurodollar bond that is issued by a foreign entity denominated in USD, but the bonds are issued and traded outside of the US.
Talking Heads
On Insisting on 'Orderly' Rate-Hike Pace to Avoid Stress – ECB's Ignazio Visco
"Particular attention will have to be paid to ensuring that the monetary policy normalization process takes place in an orderly manner and to preventing the emergence of any market fragmentation… Given the uncertainty of the economic outlook, the rates will have to be raised gradually… The increase in recent weeks of the yield spread between Italian and German bonds confirms that the public debt is still a source of significant vulnerability"
On Yellen Saying She Was Wrong Last Year on the Path of US Inflation
"I was wrong about the path inflation would take… There have been unanticipated and large shocks to the economy that have boosted energy and food prices and supply bottlenecks that have affected our economy badly that at the time I didn't fully understand"
On Greenland's Payment Plan Flagging Governance Risks: Lombard Odier
Dhiraj Bajaj, head of Asia credit at Lombard Odier
"There seems to be a priority being formed to pay the August bond ahead of the June bond. You'd expect a company which is partly owned by the Shanghai municipal government to have stronger governance."
Top Gainers & Losers – 01-June-22*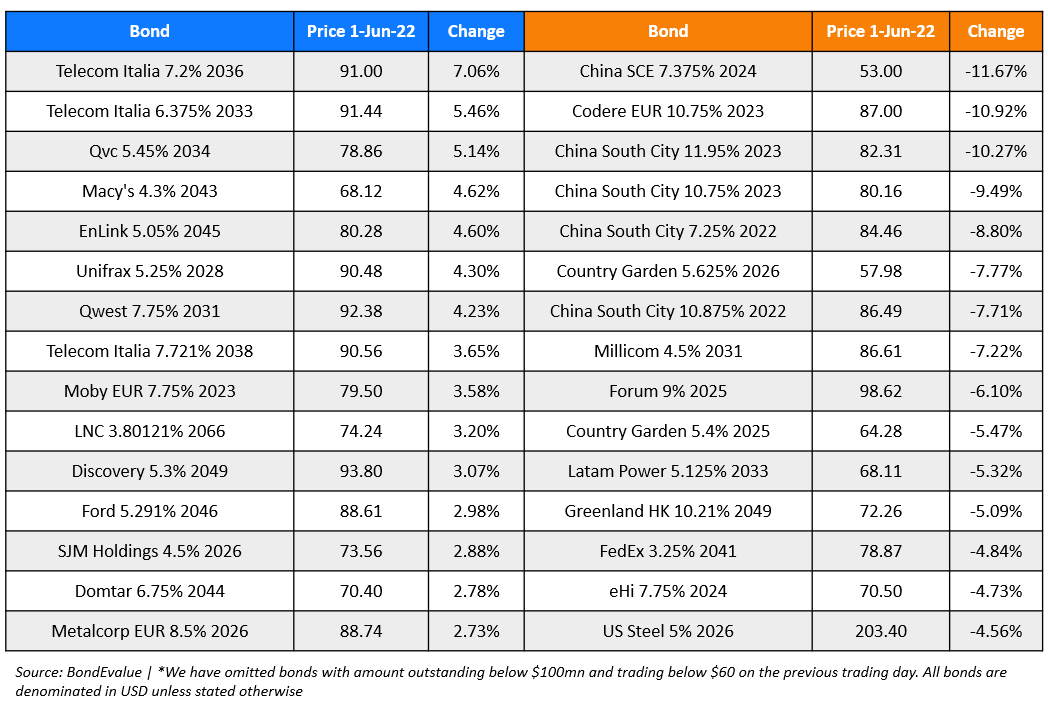 ---