US equity markets saw a drop again, continuing a dismal week, with the S&P and Nasdaq closing 1.7% and 3.2% lower respectively. S&P and Nasdaq are down 4.8% and 7.9% MTD. Sectoral losses were led by Consumer Discretionary and IT, down over 3.3% each. The risk-off sentiment has pulled 10Y yields another 9bp lower to 2.9%. European markets on the other hand closed higher – the DAX, CAC and FTSE were up 2.2%, 2.5% and 1.4%. Brazil's Bovespa closed 1.3% higher. In the Middle East, UAE's ADX was down 1.2% and Saudi TASI closed 1% lower. Asian markets have opened lower – HSI, STI and Nikkei were down 1%, 0.7% and 0.8% while Shanghai was 0.2% higher. US IG and HY CDS spreads widened 0.8bp and 2.7bp respectively. EU Main CDS spreads were 2.8bp tighter and Crossover spreads were 14.2bp tighter. Asia ex-Japan CDS spreads were 3.9bp wider.
The US CPI print was mildly lower for April at 8.3% YoY than the prior month's print of 8.5%. Core CPI rose 6.2% vs. expectations of a 6% gain, keeping inflation running high.
New Bond Issues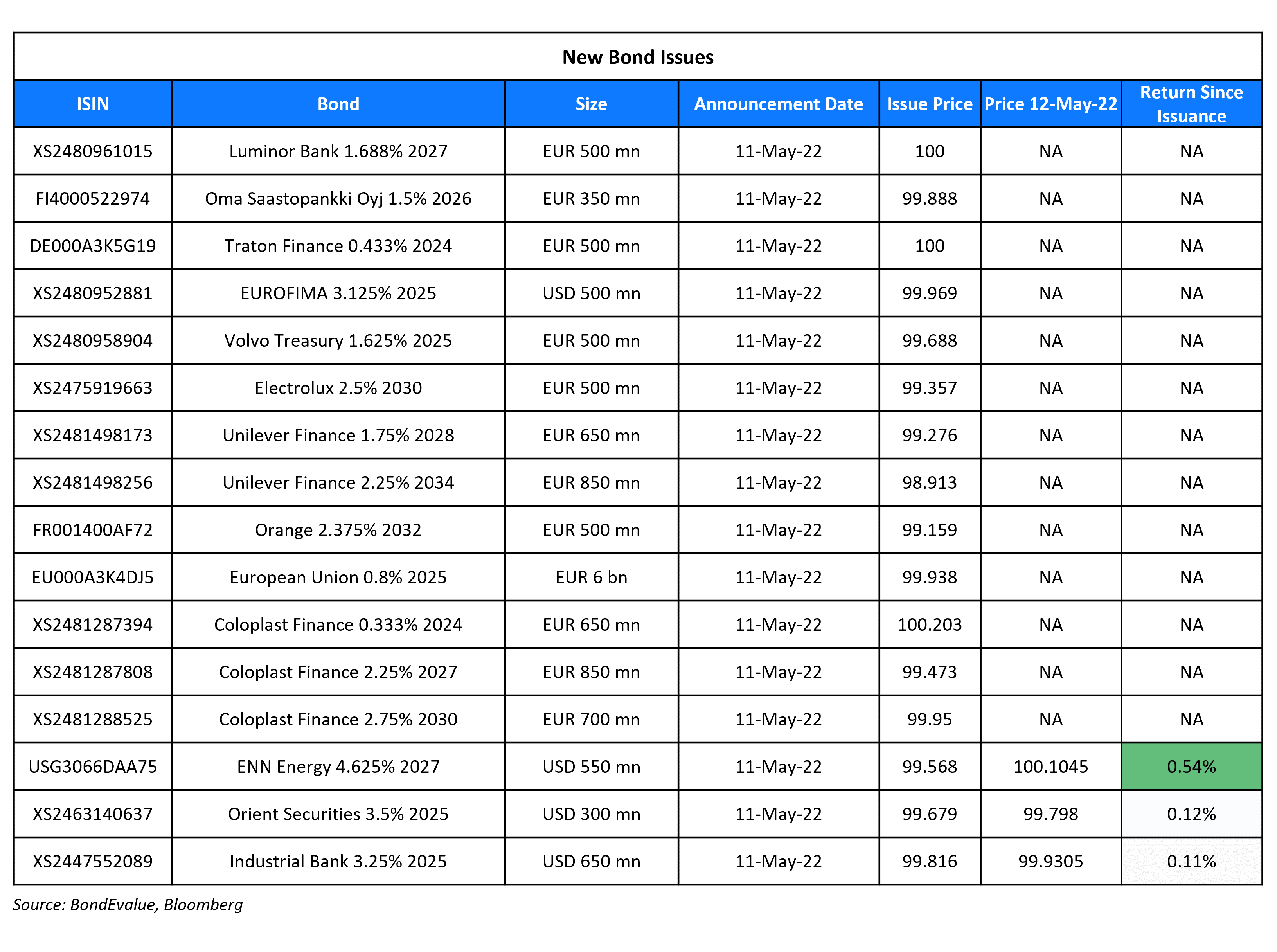 Industrial Bank HK raised $650mn via a 3Y green bond at a yield of 3.315%, 43bp inside the initial guidance of T+95bp area. The bonds have expected ratings of Baa2/BBB (Moody's/Fitch), and received orders over $3.4bn, 5.2x issue size. Proceeds will be used to finance and/or refinance green assets related to wind and solar power, as well as for electrified rail and metro projects. The bonds were priced at a greenium of 4.5bp compared to its 1.04% 2025s that currently yield 3.36%. 
ENN Energy raised $550mn via a 5Y green bond at a yield of 4.723%, 30bp inside the initial guidance of T+210bp area. The bonds are rated Baa1/BBB/BBB+. Proceeds will be used to refinance debt as well as fund capital or operating expenditure, including the research and development, construction, acquisition and operation of new or existing green projects. This is ENN's second dollar green bond, with the first being a $750mn 10Y bond issued in September 2020.
DFZQ raised $300mn via a 3Y bond at a yield of 3.614%, 44bp inside the initial guidance of T+120bp area. The bonds have expected ratings of Baa2. Proceeds will be used for debt refinancing. The bonds have a change of control put at 101.
Korea Expressway raised $500mn via a 3Y bond at a yield of 3.744%, 35bp inside the initial guidance of T+120bp area. The bonds are rated Aa2/AA (Moody's/S&P). Proceeds will be used for general corporate purposes, including repayment of maturing debt.
New Bonds Pipeline
Busan Bank hires for $ Social bond
Kookmin Card hires for $ Sustainability bond
Continuum Energy Aura hires for $ Green Bond
Jubilant Pharma hires for $ bond
Sael Limited hires for $ 7Y Green bond
Rating Changes
Term of the Day
Chapter 11
There are different types of bankruptcies in the US. Chapter 11 is know as the "reorganization" bankruptcy and is available to individuals, sole proprietorship, partnerships and corporations. Corporations file for chapter 11 so that they can continue to operate while being protected from creditors claims to collection activities and property repossession. Petitions to file for chapter 11 can be voluntary or involuntary. In the case of a voluntary filing, the debtor must provide a schedule that provides details of its financial position. Upon filing a voluntary petition for relief under chapter 11 or, in an involuntary case, the entry of an order for relief, the debtor automatically assumes an additional identity as the "debtor in possession." Once the petition is filed, there is an automatic stay order that suspends all judgments, foreclosures, collection activities, and property repossessions by creditors that arose before the petition. The bankruptcy court requires debtors to propose a restructuring plan within 120 days from the date of filing, which then grants the debtor another 180 days to obtain confirmation of the restructuring plan. The plan is deemed to have been accepted by courts if it is accepted by creditors with at least two-thirds in amount and at least half of the number of allowed claims.
---
Talking Heads
On Draghi Saying European Companies Can Pay for Gas in Rubles
"There is no official pronouncement of what it means to breach sanctions. Nobody has ever said anything about whether ruble payment breach sanctions.. As a matter of fact, most of the gas importers have already opened their account in rubles with Gazprom… As a matter of fact the evidence we have seen yesterday, I think it's of this morning, the largest gas importer in Germany has already paid in rubles"
On Britain Faces 'Pandemic' of Bank Fraud – NatWest Group CEO Alison Rose
"The biggest challenge of any CEO or any leader right now is the world is so uncertain and moving so quickly. So you have to be able to lead through ambiguity…. The majority of our mortgages are fixed rate, so the interest rate rises are not causing an immediate problem. Our small businesses are on fixed rate borrowing."
On PBOC Making Stabilizing Growth a Higher Priority
Deputy Governor Chen Yulu
"The PBOC will make stabilizing growth a more prominent priority, strengthen cross-cyclical policy adjustment, and accelerate to implement policy measures already announced, especially to actively plan new policy tools"
Irene Cheung, FX strategist at ANZ in Singapore
"By allowing the yuan to weaken since late April, we think the central bank may have included the currency as an easing tool… taking the PBOC's remark on guiding interest rates lower, to mean monetary easing will continue"
On Moving More' on Rates If Inflation Persists – Fed's Bostic
"We are going to get our policy rate certainly to a neutral space where we are no longer providing accommodation. If inflation stays at high levels or levels that are too high — by too high, it's really not moving back towards our 2% target — then I am going to be supporting moving more."
Top Gainers & Losers – 12-May-22*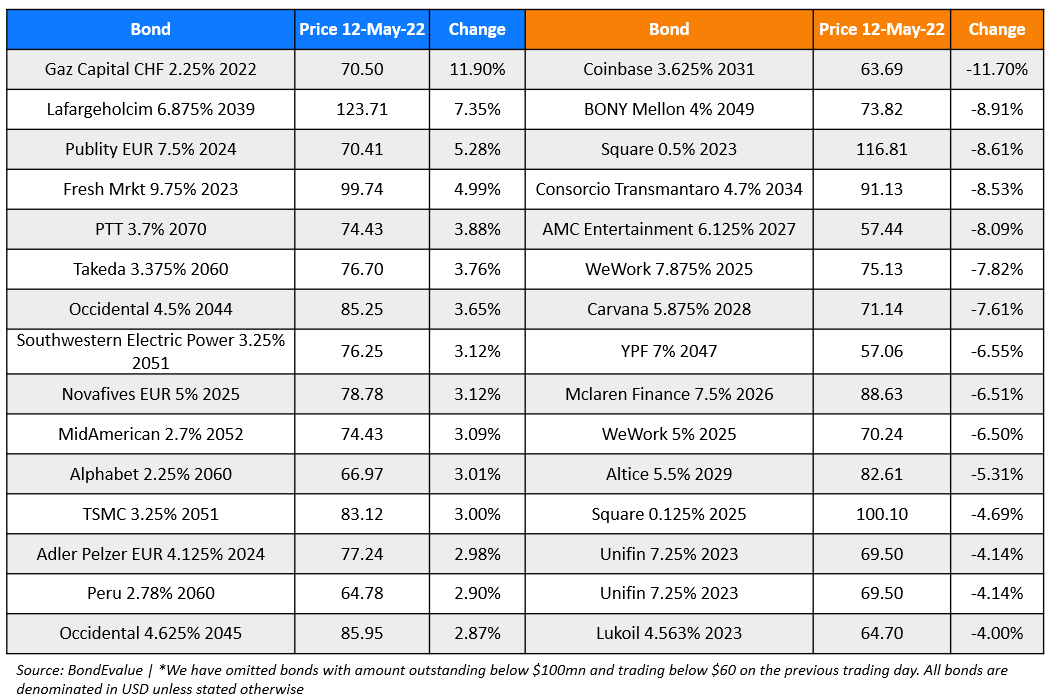 ---