US equity markets were near flat on Thursday, with the S&P down 0.1% while Nasdaq was almost unchanged. Sectoral gains were led by Healthcare, up 0.9% while losses were led by Utilities and IT, down over 1.1% each. US 10Y Treasury yields were 1bp lower to 2.88%. European markets moved lower with the DAX, CAC and FTSE down 0.6%, 1% and 1.6%. Brazil's Bovespa closed 1.3% higher. In the Middle East, both UAE's ADX and Saudi TASI saw massive drops of 5.8% and 4.1% respectively, with the former seeing its its biggest intraday fall since March 2020. Asian markets have opened lower – HSI, STI and Nikkei were down 1%, 0.7% and 0.8% while Shanghai was 0.2% higher. US IG CDS spreads tightened 0.7bp while HY spreads widened 3.9bp respectively. EU Main CDS spreads were 1.3bp wider and Crossover spreads were 9.1bp wider. Asia ex-Japan CDS spreads were 7.4bp wider. 
New Bond Issues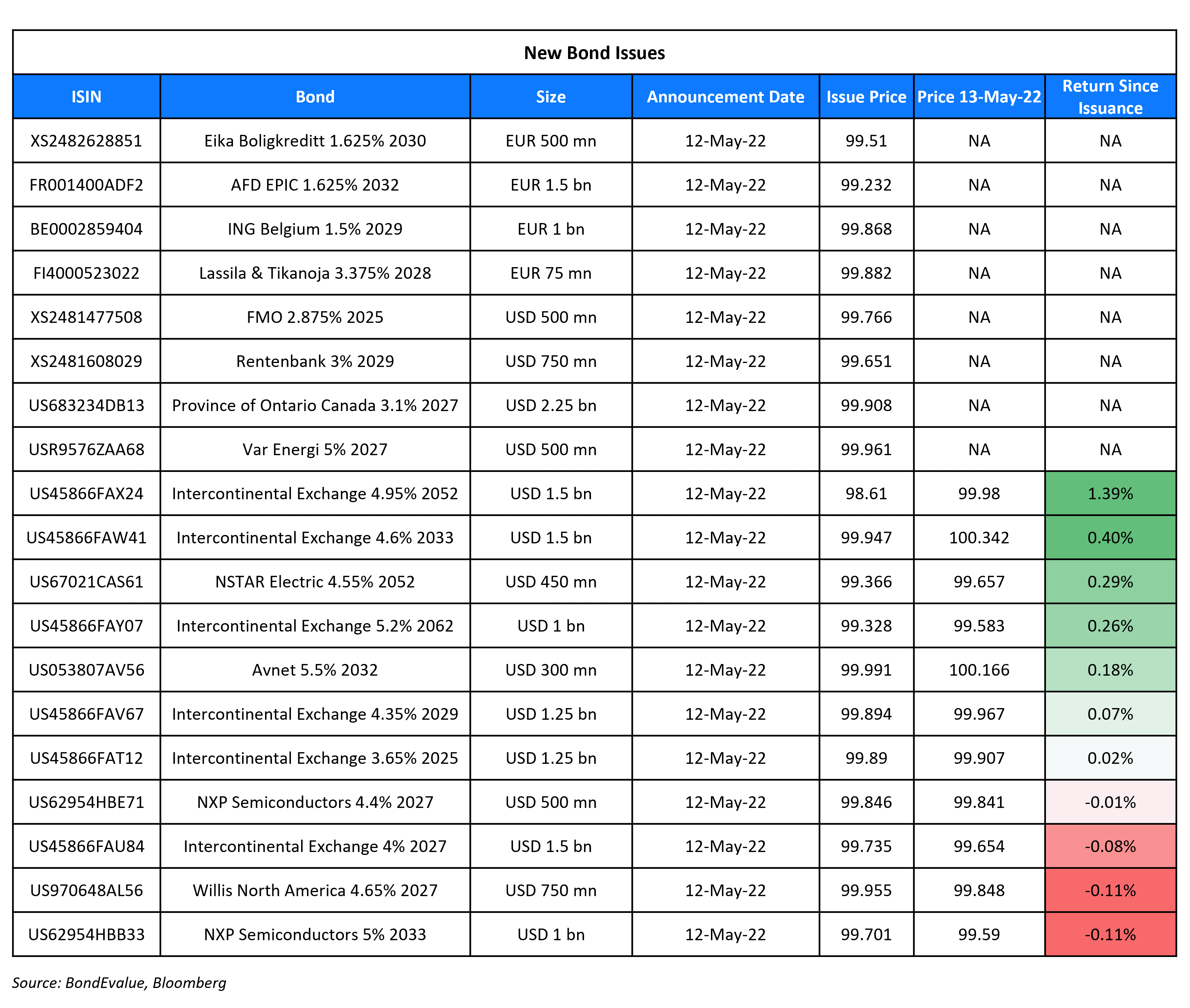 Intercontinental Exchange (ICE) raised $8bn via a six-tranche deal. Details are given in the table below: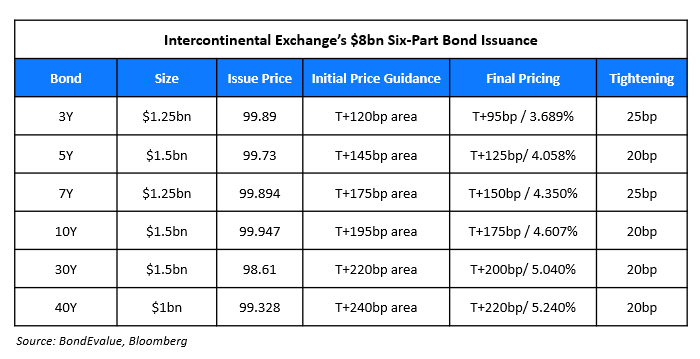 The bonds are rated A3/A-. Net proceeds from the offering of the 3Y, 5Y, 7Y and 40Y notes will be used to finance the cash portion of the $13.1bn acquisition of Black Knight and any adjustments thereof. Black Knight is a software, data and analytics company that serves the real estate and housing finance markets. Net proceeds from the 10Y and 30Y notes will be used to fund the redemption of ICE's $500mn 2.35% bonds due September 15, 2022, $400mn 3.45% bonds due September 21, 2023, $1bn 0.7% bonds due June 15, 2023 and the $800mn 4% bonds due October 15, 2023.
BOC Aviation raised $300m via a 5Y bond at a yield of 4.334%. IFR notes that the issuer did not announce initial price guidance, but went straight to pricing. The bonds are unrated. The new bonds were priced at a new issue premium of 9bp over its existing 3.5% bonds due September 2027 that yield 3.24%.
New Bonds Pipeline
Busan Bank hires for $ Social bond
Kookmin Card hires for $ Sustainability bond
Continuum Energy Aura hires for $ Green Bond
Jubilant Pharma hires for $ bond
Sael Limited hires for $ 7Y Green bond
Rating Changes
Term of the Day
Capital Recycling
Capital recycling is a strategy where an existing asset's value is used to purchase a new asset while using cash flow from regular income and assets to pay down the debt. For example, CapitaLand Investment said that its 'capital recycled' was at S$1.6bn ($1.15bn) YTD, for its capital management business and that more than half of its annual S$3bn ($2.2bn) capital recycling target was already met. Here, it meant that collateralized lines of credit were used to meet opportunities and obligations along the way with cash flows being used to pay down the lines of credit, so that the money is available in the future. The concept of capital recycling is said to have been borrowed from property portfolio management where proceeds from sales of some properties in a portfolio are used to finance purchases of new properties, similar to how share investors might rebalance a share portfolio without adding additional financing.
---
Talking Heads
On Recommending Bet on Higher Interest Rates in Long Run – BNP Paribas
Camille de Courcel, head of strategy for G-10 rates at BNP
"Green transition, partial deglobalization and public and private investment over the years to come, and extra funding needs to finance those, could mean that rates will be structurally higher in the coming years"… Swaps that project rates 20 to 30 years from now still have "ample room to reprice higher."
On Powell Reiterating Half-Point Hikes Are Likely in June and July
"If the economy performs about as expected, it would be appropriate for there to be additional 50-basis point increases at the next two meetings… If things come in better than we expect, then we're prepared to do less. If they come in worse than when we expect, then we're prepared to do more… If you had perfect hindsight you'd go back and it probably would have been better for us to have raised rates a little sooner… The question whether we can execute a soft landing or not, it may actually depend on factors that we don't control"
On Fed able to bring down inflation without causing recession – US Treasury Secy Janet Yellen
"Things suggest that the Fed has a path to bring down inflation without causing a recession, and I know it will be their objective to try to accomplish that… "It's (inflation) having a substantial adverse impact on many vulnerable households And we are laser-focused on addressing inflation"… "It does show that there are factors beyond spending in the United States that are critical to inflation".
On China Tech Sector's Dollar-Bond Selloff Attracting Bargain Hunters
Jean-Louis Nakamura, Asia Pacific chief investment officer at Lombard Odier
The notes' spreads have started widening again after March's swing, leaving them very high and attractive given many tech companies are cash-rich and lightly leveraged
Goldman Analysts
Weakness being linked to IS IG declines "is likely to be temporary, and spread widening due to market technicals is an opportunity"
Top Gainers & Losers – 13-May-22*