US equity markets saw a slight recovery yesterday with the S&P and Nasdaq closing a 0.3% and 1% higher respectively after the week began with a massive risk-off sentiment. Sectoral gains were led by IT, up 1.6% and Energy up ~1%. European markets closed in the green too – the DAX, CAC and FTSE were up 1.2%, 0.5% and 0.2%. Brazil's Bovespa closed 0.1% lower. In the Middle East, UAE's ADX was down 0.9% while Saudi TASI closed 2.2% lower. Asian markets have opened broadly higher – Shanghai, HSI, and Nikkei were up 1.6%, 1.7% and 0.3% while STI was 0.7% lower. US IG and HY CDS spreads tightened 2bp and 10bp respectively. EU Main CDS spreads were 1.2bp tighter and Crossover spreads were 4.2bp tighter. Asia ex-Japan CDS spreads were 4.5bp wider.
New Bond Issues
Industrial Bank HK $ 3Y green at T+95bp area
ENN Energy $ 5Y green at T+210bp area
DFZQ $ 3Y at  T+120bp area
Korea Expressway $ 3Y at T+120bp area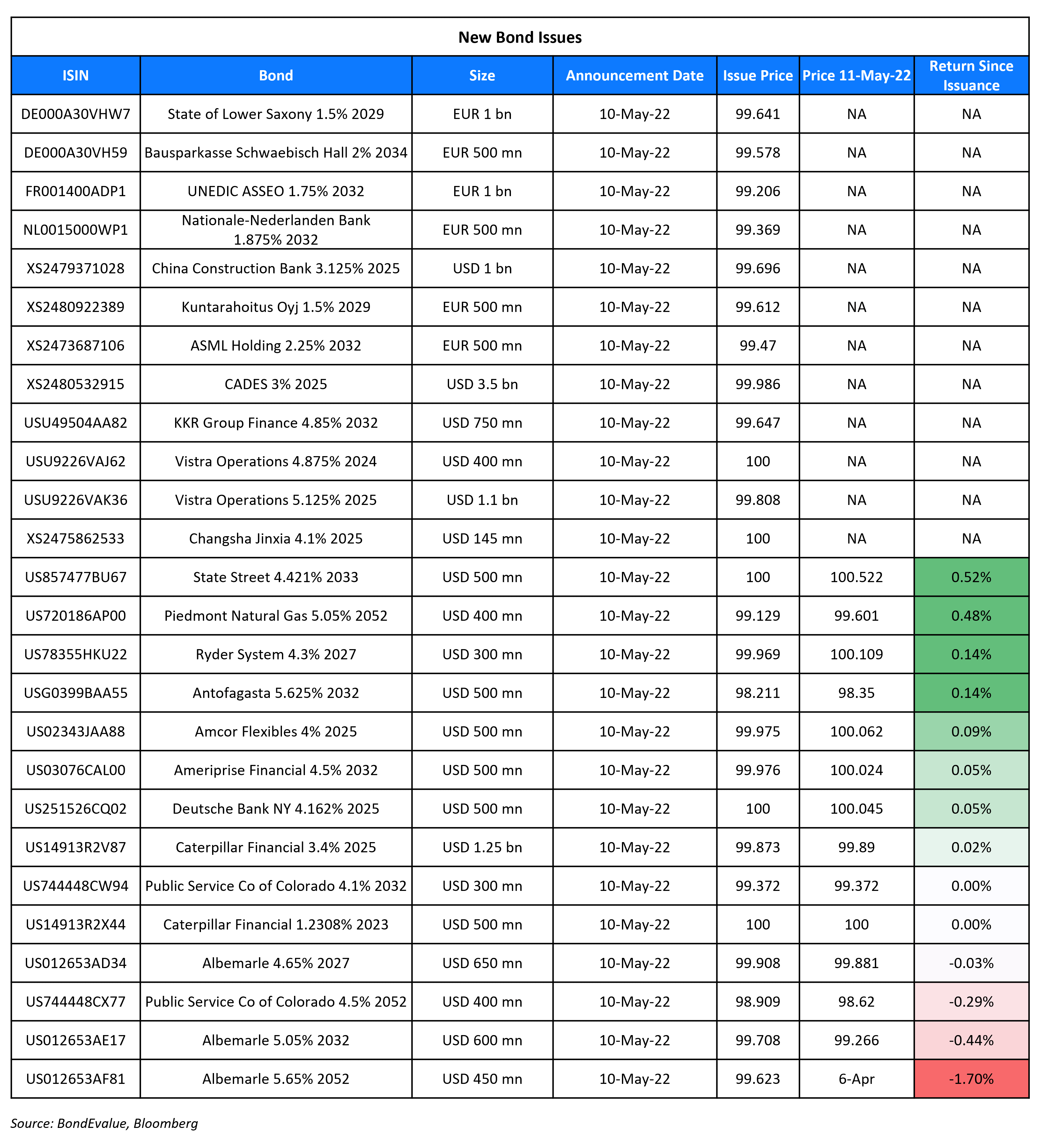 Deutsche Bank NY raised $500mn via a 3Y bond at a yield of 4.162%, 20bp inside the initial guidance of T+155bp area. The bonds have expected ratings of A2/A-. The proceeds will be used for general corporate purposes.
China Construction Bank (CCB) raised $1bn via an 3Y green bond at a yield of 3.232%, 43bp inside initial guidance of T+90bp area. The bonds are rated A1. The proceeds will be used for the bank's working capital and for lending to customers involved in eligible green projects.
New Bonds Pipeline
Busan Bank hires for $ Social bond
Kookmin Card hires for $ Sustainability bond
Continuum Energy Aura hires for $ Green Bond
Jubilant Pharma hires for $ bond
Sael Limited hires for $ 7Y Green bond
Rating Changes
Exxon Mobil Corp. Outlook Revised To Stable From Negative On Updated Price Assumptions, Ratings Affirmed
Term of the Day
Three Red Lines
The 'three red lines' are leverage guidelines set for select property developers in China. They consist of caps on the following ratios: – Liabilities to assets (ex-advanced proceeds) not more than 70% – Net Debt to Equity not more than 100% – Cash to Short-term Debt greater than 1x These ratios were devised by China's PBOC and Ministry of Finance. Not adhering to these ratios would result in them being cut-off from new loans. Those who adhere to all three ratios can increase debt by 15% in the subsequent year.
---
Talking Heads
On Unemployment Rate May Rise as Fed Fights Inflation – New York Fed President John Williams
"When I think of a 'soft landing,' it's really a matter of Yes, we could see growth below trend for a while, and we definitely could see unemployment moving up somewhat, but not in a huge way. I would not define a soft landing as unemployment staying at 3.6%. I would define it as really maintaining a healthy, strong labor market while inflation is coming down."
On Backing Half-Point Moves, Bigger Ones If Inflation Persists – Cleveland Fed President Loretta Mester 
"We don't rule out 75 forever, right? The cadence we're going now seems about right to me. We're going to have to assess whether inflation is actually moving down, and then we'll be able to get more information after we do a couple of those to see… we may have to speed up. But if we see inflation moving down and demand down more than we might be predicting, then we can adjust at that point"
On Bundesbank Chief Saying He'll Back First ECB Rate Hike in July – ECB's Joachim Nagel
"As inflation in the euro area continues to run high, we need to act… will advocate a first step normalizing ECB interest rates in July."… risk of acting too late "is increasing notably"… "When you're in a territory below zero it seems to be first of all necessary to get into positive territory back again and changing the focus away"
On Netherlands says it becomes first government to align green bonds with EU standards
Eric Ligthart, project leader for green bonds at the DSTA
"As a sovereign we have a large size so I think we are clearing the path for other issuers by demonstrating how things can be done… Most of our work was in demonstrating that (do no significant harm) criteria were met
Top Gainers & Losers – 11-May-22*