US equity markets saw a minor change on Friday with the S&P near flat while Nasdaq was down 0.3% Sectoral gains were led by Healthcare and Real Estate, up over 1% each while losses were led by Consumer Discretionary and Industrials, down over 1% each. US 10Y Treasury yields eased another 6bp to 2.81%, a total of 17bp in the last three days. European markets ended higher on Friday with the DAX, CAC and FTSE up 0.7%, 0.2% and 1.2% respectively. Brazil's Bovespa closed 1.4% higher. In the Middle East, UAE's ADX was up 0.9% on Friday and Saudi TASI fell 0.8% on Sunday. Asian markets are off to a negative start – Shanghai, HSI and STI were down 0.5%, 1.8%, 0.4% while Nikkei was up 0.5% respectively. US IG CDS spreads widened 0.8bp and HY spreads widened 6.7bp. EU Main CDS spreads were 2bp wider and Crossover spreads were 10.2bp wider. Asia ex-Japan CDS spreads were 7bp tighter.
---
Advanced Two-Day Course on Bonds (In-Person) | 7-8 June | Singapore
Keen to develop a deeper understanding of bonds? Sign up for our upcoming IBF-recognized course on bonds, scheduled for 7-8 June in-person at 79 Robinson Road, Singapore. This course is ideal for finance professionals in Singapore, with 80/90% IBF funding available to eligible company-sponsored candidates. Click on the banner below for details about the course modules, instructor profiles, fees and funding.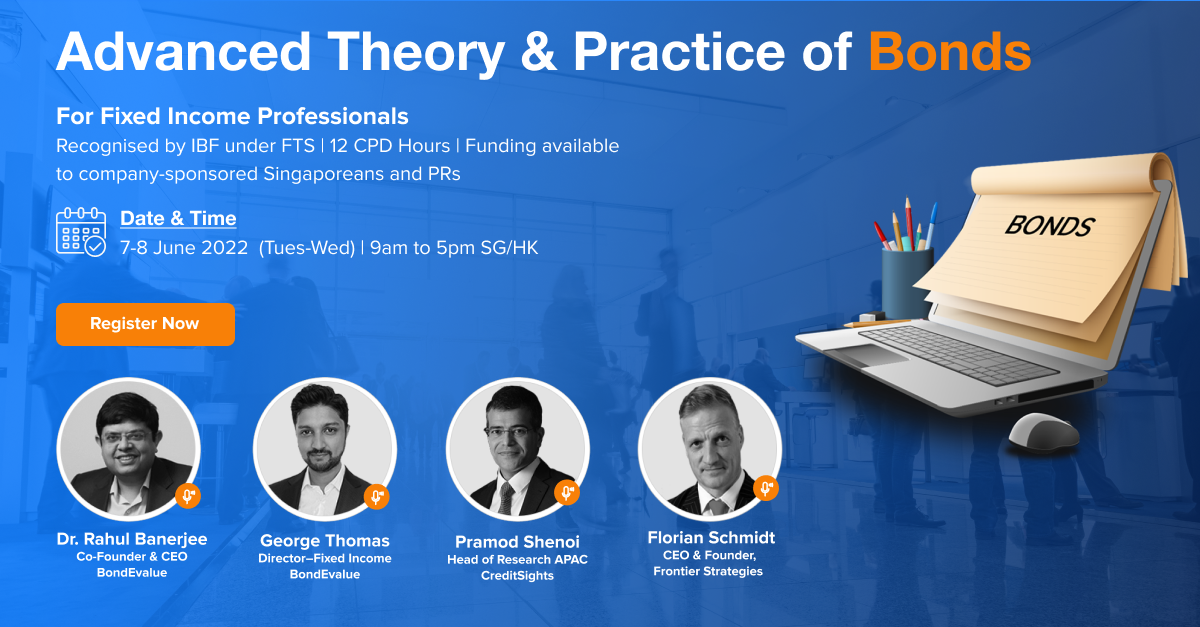 ---
New Bond Issues
OUE Commercial Trust S$ tap of 4.2% 2027

NatWest Markets raised €1.25bn via a two-tranche deal. It raised €750mn via a 3.25Y bond at a yield of 2.091%, 15bp inside initial guidance of MS+105bp area. It also raised €500mn via a 3.25Y FRN at a yield of 0.592% vs. initial guidance of 3m Euribor area. The 3.25Y fixed-rate bonds received orders over €900mn, 1.2x issue size. The 3.25Y FRN received orders over €600mn, 1.2x issue size. The bonds have expected ratings of A2/A-/A+.
Indonesia $ Sukuk
Busan Bank hires for $ Social bond
Kookmin Card hires for $ Sustainability bond
Continuum Energy Aura hires for $ Green Bond
Jubilant Pharma hires for $ bond
Sael Limited hires for $ 7Y Green bond
Rating Changes
Talking Heads
On Signals That July Is Likely Liftoff Date for ECB Rates
Christine Lagarde, ECB President
"We are going to follow the path of stopping net asset purchases. Then, sometime after that — which could be a few weeks — hike interest rates… We need to make sure that this is going gradually enough so that we don't put the break on this car that is moving. We have to lift the accelerator for sure to slow inflation but we cannot be breaking any speed."
On On US Corporate Credit Spreads Hover Around 'Danger Zone'
Winifred Cisar, global head of credit strategy at CreditSights
"We're in kind of the approach to the danger zone, 150 basis points of spread. If you break to 200, that's when the Fed has to take a little bit of a pause and say, 'Are capital markets still functioning?
Bloomberg strategist Michael Gambale
US high-grade bond syndicate desks "will look to next week for some stability in the financial markets. Companies that stood down on expected deals will likely look again over the next few days
On IMF urging Asia to be mindful of spillover risks from tightening
Deputy Managing Director Kenji Okamura, International Monetary Fund
There is a risk that drifting inflation expectations could require an even more forceful tightening"
On Goldman Raising China Property HY Default Forecast to 31.6%
China's high-yield property default rate may reach 31.6% this year, with the worsening stress in the market pointing to rising cases of default, updating their previous forecast of 19%
Top Gainers & Losers – 23-May-22*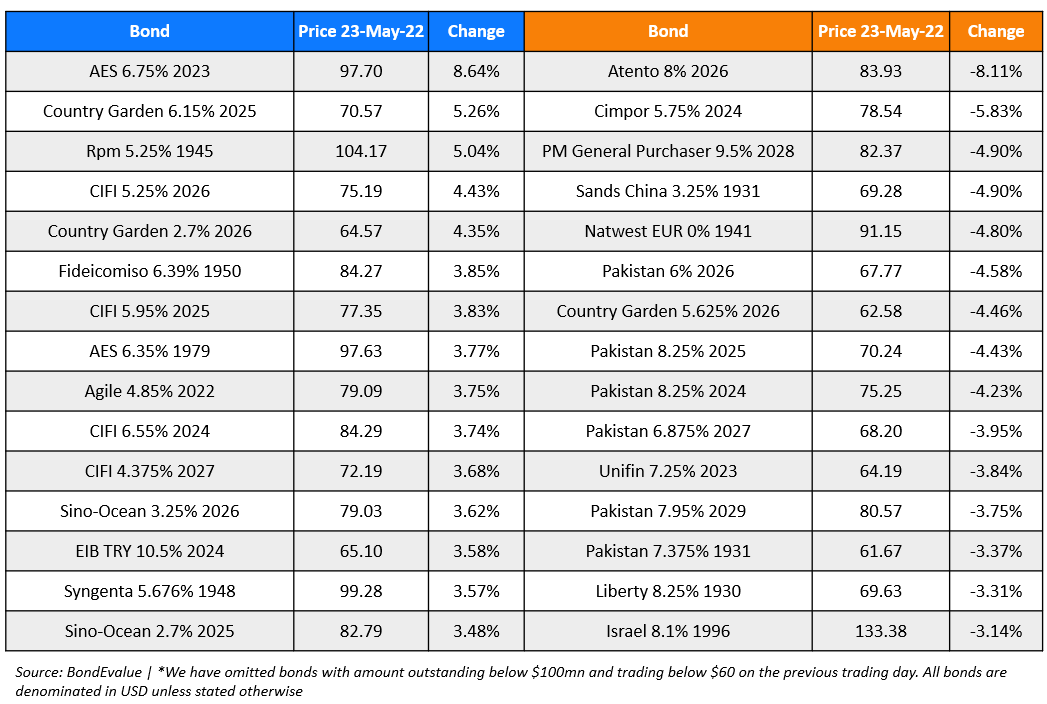 Other Stories
Wells Fargo Advisors fined $7mn by U.S. SEC for anti-money laundering lapses, article with gallery