US equity markets closed higher on Thursday with the S&P and Nasdaq up 1% and 1.6% respectively. Sectoral gains were led by Utilities up 2.3% followed by Health Care, up 2.2% while Energy was down 3.7%. US 10Y Treasury yields dropped by 6bp to 3.1%. European markets were lower on weak PMI data, with the DAX, CAC, and FTSE falling 1.8%, 0.6%, and 1% respectively. Brazil's Bovespa was down 0.2%. In the Middle East, UAE's ADX closed 0.6% down and Saudi TASI was flat. Asian markets have opened broadly higher led by HSI up 1.3%, and STI, Nikkei and Shanghai were higher by 0.3%, 0.7% and 0.4% respectively. US IG CDS spreads tightened by 0.7bp and HY spreads were 10.5bp tighter. EU Main CDS spreads were 2.8bp wider and Crossover spreads were 6bp wider. Asia ex-Japan IG CDS spreads widened 3.2bp.
German manufacturing and Services PMIs came at 52.0 and 52.4, much weaker than expectations of 53.7 and 54.1 respectively, implying slower growth in economic activity in the region. Norway's central bank raised benchmark rates by 50bps to 1.25%, the largest rate hike in 20 years. In South America, Mexico's central bank hiked its policy rate by a record 75bp to 7.75%, saying it would hike rates again by the same quantum if necessary to clamp down on inflation.
---
Do you own

Sri Lanka

,

Pakistan

and/or

Chinese real estate bonds

? If yes, do sign up for the upcoming masterclass focused on debt restructuring to learn more about what to expect as bondholders.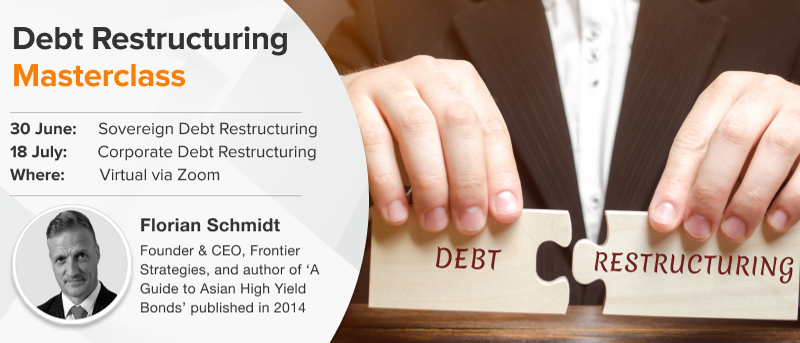 The masterclass will be conducted virtually via Zoom by Asian high yield and liability management expert Florian Schmidt on 30 June and 18 July. Click the button below for more details and to sign up.
---
New Bond Issues
UAE $1.75/1.25bn 10Y/30Y, final at T+100/175bp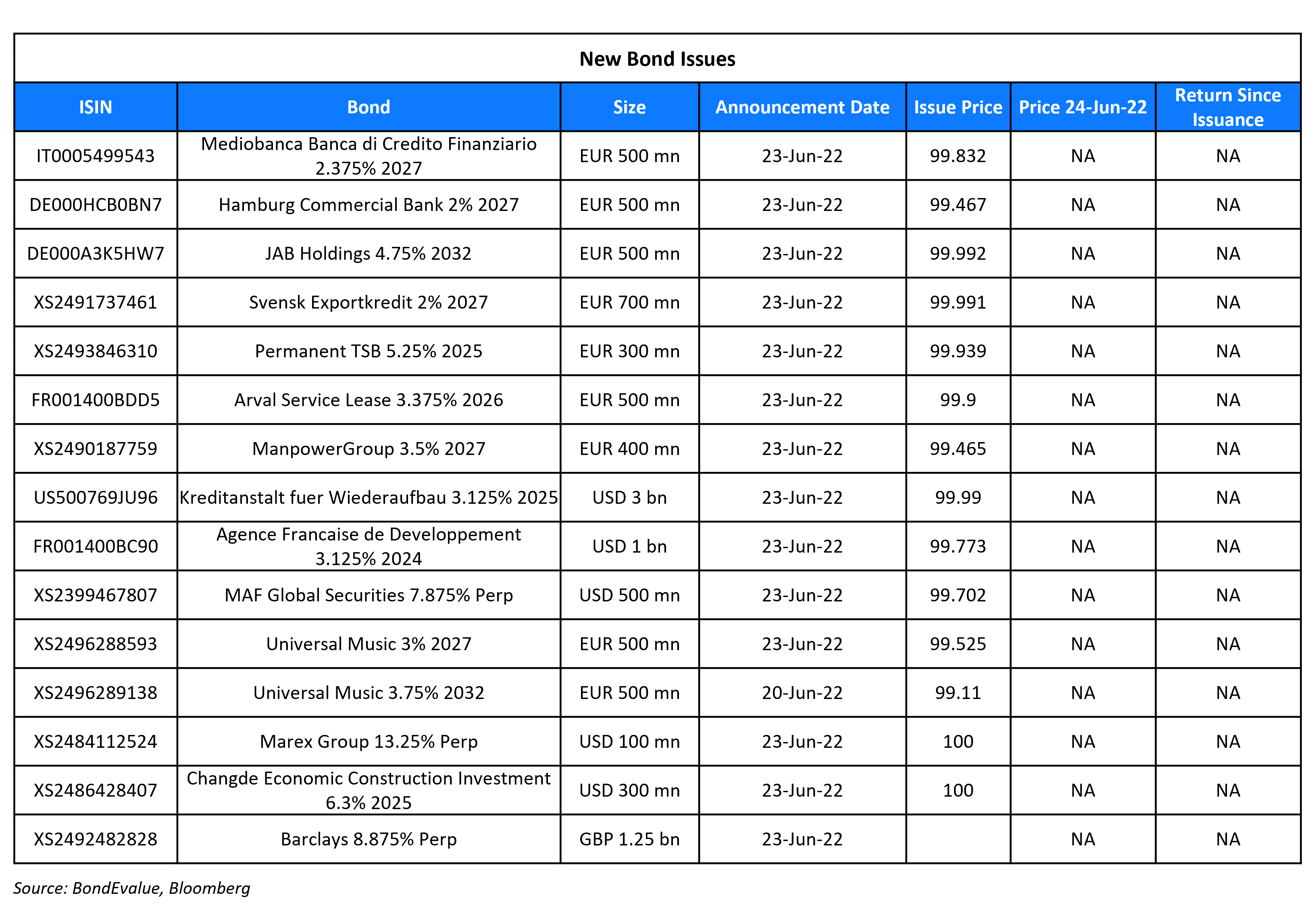 Barclays raised £1.25bn via a PerpNC5.75 at a yield of 8.875%, 37.5bp inside initial guidance of 9.25% area. The bonds have expected ratings of Ba2/B+/BBB-, and received orders over £4.25bn, 3.4x issue size. Proceeds will be used for general corporate purposes and to strengthen the issuer's capital base.
Majid Al Futtaim (MAF) raised $500mn via a Green PerpNC5.25 at a yield of 7.95%, 30bp inside initial guidance of 8.25%. The bonds received orders over $1bn, 2x issue size. Proceeds will be used to refinance MAF's outstanding $500mn 5.5% Perps callable in September 2022. The new Green Perps offer a yield pick-up of 117bp over its older 6.375% Perps callable in March 2026.
Changde Economic Construction raised $300mn via a 3Y bond at a yield of 6.3%. The bonds have expected ratings of Ba1 (Moody's). Proceeds will be used to refinance a $300mn 6.6% bond due August 15.
New Bonds Pipeline
Bank of East Asia hires for $ 6NC5 bond
Busan Bank hires for $ Social bond
Continuum Energy Aura hires for $ Green Bond
Rating Changes
Term of the Day
Dutch Auction
These are public offerings where the price of the offering is determined as the highest price after all bids are taken. For example, US Treasury bond auctions are based on the same principle – the highest price (lowest yield) submitted will be accepted and then move lower down in terms of prices submitted by the other bidders. For example, if the Treasury plans to issue $10bn worth of bonds at a price of $100 and the highest quote by a bidder is at $102, then they will get their full allocation followed by the price at which the next highest bidder bids and subsequently thereafter in descending order till the allocation is completed.
There are also 'Modified Dutch Auctions'. When an issuer bids to repurchase securities for example, they can use Modified Dutch Auction Tender Offers (MDATOs) – here the issuer sets prices in a falling structure at which a holder can tender the securities. The buying price will be the highest at which the issuer can buy all securities it has offered to purchase, or a smaller amount if there isn't a tender of all securities. With MDATOs, the issuer pays one fixed price for the tendered securities. Due to this, some holders will receive more than they bid while others will receive less.
Oman launched a $1.75bn tender offer to buyback 8 of its dollar bonds on Wednesday, via a Modified Dutch Auction.
Talking Heads
On ECB's Nagel Saying Central Banks Mustn't Fall Behind the Curve
European Central Bank Governing Council member Joachim Nagel
"Central banks must not respond with too little, too late, If monetary policy falls behind the curve, even stronger hikes in interest rates could become necessary to get inflation under control. This would create much higher economic costs."
On Fed's Bowman Backing Raising Rates by 75bp in July
Federal Reserve Governor Michelle Bowman
"Based on current inflation readings, I expect that an additional rate increase of 75 basis points will be appropriate at our next meeting as well as increases of at least 50 basis points in the next few subsequent meetings, as long as the incoming data support them."
On Bond Markets May Be Misreading the Fed Due to Powell
Pershing Square founder Bill Ackman
"I think the bond market is misreading the Fed. This is likely due to Powell's communication style and some wishful thinking on the part of investors. Inflation is out of control and inflationary expectations have become unanchored."
On Yields Likely Having Peaked as Recession Risks Grow
Steven Major, global head of fixed income research at HSBC Holdings Plc
"The Federal Reserve "is well served by keeping some hawkishness there Because if they appear that they've reached the peak, then financial conditions will loosen and the policy won't work. So, they need a couple more months of this."
Top Gainers & Losers – 27-
June-22*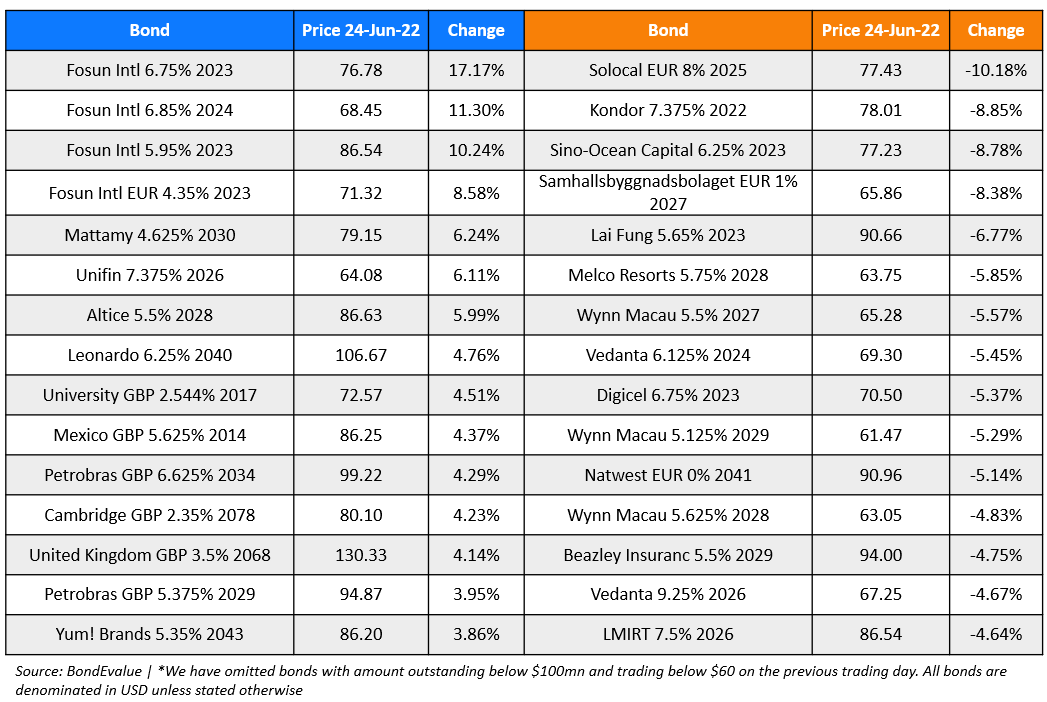 Other Stories