US equity markets ended the week on a higher note on Friday with the S&P and Nasdaq up 0.9% and 1.9% respectively. Sectoral losses were led by Communication Services, down 4.34%, followed by Information Technology down 1.4%. US 10Y Treasury yields were 12bp down at 2.78%. European markets were mixed, DAX and FTSE were flat while the CAC was up 0.3%. Brazil's Bovespa was 0.1% lower. In the Middle East, UAE's ADX was up 0.6% on Friday while Saudi TASI fell 0.1% on Sunday. Asian markets have opened mixed – Nikkei, Shanghai, and HSI were down 0.7%, 0.7%, and 0.9% respectively while STI was up 0.3%. US IG CDS spreads widened 2.5bp and US HY spreads were wider by 15.8bp. EU Main CDS spreads were 3bp tighter and Crossover spreads were tighter by 3.9bp. Asia ex-Japan IG CDS spreads tightened 6.3bp.
June inflation in Oman rose to 2.85% compared to 2.4% in May. Inflation was driven by price increases in food and beverages, oils and fats and fruits sectors by 6%, 19% and 9.2% respectively. Russia's central bank delivered a 150bps rate cut, which was higher than expectations, bringing the benchmark rate to 8%. This was its fourth rate cut in 2022. The central bank indicated that it would study the need for more cuts as inflation slows and an economic contraction continues for longer than estimated.
---
IBF-STS Course on Digital Assets | 11 Aug 2022 (In-person in Singapore) | 70/90% Funding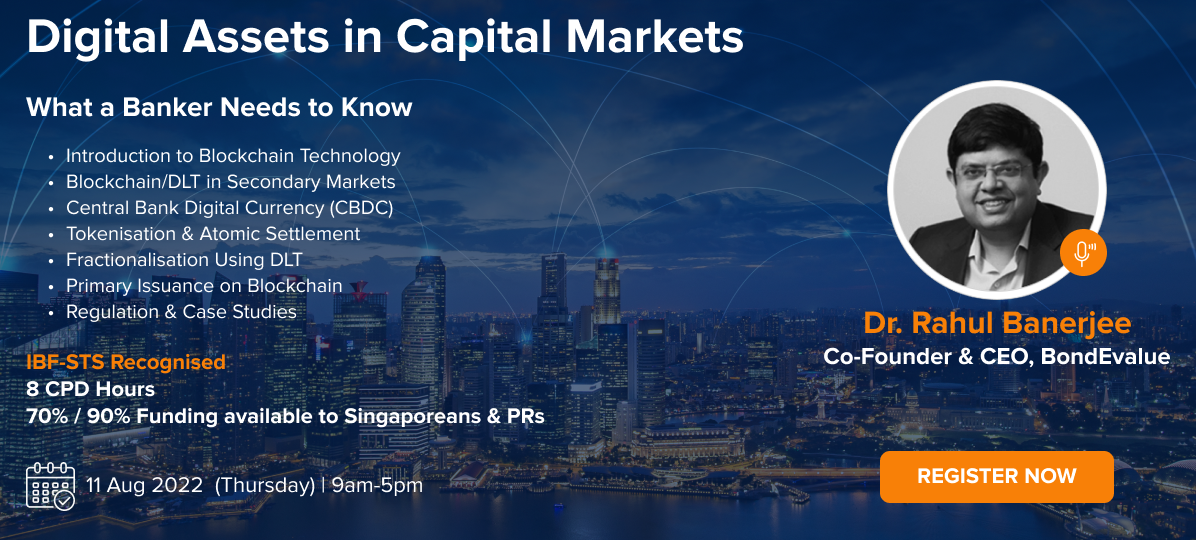 ---

New Bond Issues
Lotte Property $ Guaranteed 3Y Green & Sustainability @ T+190bp area
Shandong Guohui $ 3Y @ 5.5% area

Qingdao Jimo raised $170mn via a 3Y bond at a yield of 4.9%. The bonds have expected ratings of BBB- (Fitch). Proceeds will be used for project construction, working capital and offshore debt repayment.
New Bonds Pipeline
Busan Bank hires for $ Social bond
Rating Changes
Term of the Day
Credit Default Swap (CDS)
A Credit Default Swap (CDS) is a financial contract between two counterparties that allows an investor to "swap" or offset the credit risk with another investor. CDS acts like an insurance policy wherein the buyer makes regular payments to the seller to protect itself from an issuer default. In the event of a default, the buyer receives a payout, typically the face value of the bond or loan, from the seller of the CDS as per the agreement. CDS spreads are a commonly used metric to track the market-priced creditworthiness of an issuer. A widening (increase) in CDS spreads indicates a deterioration in creditworthiness and vice-versa. On Friday, the US Treasury issued a waiver allowing investors with CDS on Russian debt to receive their payouts. Previously, sanctions on Russia which represented a total ban on Russian debt, had made the CDS exchange illegal. This had held up an estimated $2.5bn worth of Russian sovereign debt CDS. 
Talking Heads
On European Central Bank considering economic situation when deciding on rates
Robert Holzmann, Governor of Austria's Central Bank
"The ECB was balancing its wish to tackle higher inflation with a worsening economic situation because of problems like the Ukraine conflict…The economy will grow less strongly, the forecasts point in this direction, that has made us somewhat cautious…We will see in the autumn what the economic situation is. Then we can probably decide if we do another 0.5% or less."
On Summers Saying Fed Needs to Take Strong Action to Curb Inflation
Lawrence Summers, Former Treasury Secretary and Harvard professor
"We do need strong action from our central bank…There's a very high likelihood of recession when we've been in this kind of situation before…Recession has essentially always followed when inflation has been high and our employment has been low…There's a lot we can do to contain or control inflation, but if we continue with the kind of ostrich policies we had in 2021, there's going to be much, much more pain later."
On Capital Outflows From China Sovereign Bonds Hitting $30 Billion
Lemon Zhang, a strategist at Barclays in Singapore
"The bulk of the remaining foreign holdings of Chinese fixed-income assets reflects reserve manager, sovereign wealth fund and index tracking demand… Looking ahead, large inflows are unlikely as investors aren't optimistic on duration or China's currency, while higher global yields provide alternatives."
Frances Cheung, rates strategist at OCBC in Singapore.
"Bond inflows are unlikely to make a strong comeback due to the narrowed nominal yield differentials…The argument that Chinese government bonds are more resilient in the face of rising yields may also be weakening, as further increases in global yields may be seen as smaller than we observed in previous months."
On Euro-Zone Activity Suddenly Shrinking in Recession Omen
Chris Williamson, an economist at S&P Global.
"A steep loss of new orders, falling backlogs of work and gloomier business expectations all point to the rate of decline gathering further momentum…Of greatest concern is the plight of manufacturing, where producers are reporting that weaker-than-expected sales have led to an unprecedented rise in unsold stock…With the ECB raising interest rates at a time when the demand environment is one that would normally see policy being loosened, higher borrowing costs will inevitably add to recession risks."
Top Gainers & Losers – 25-
July-22*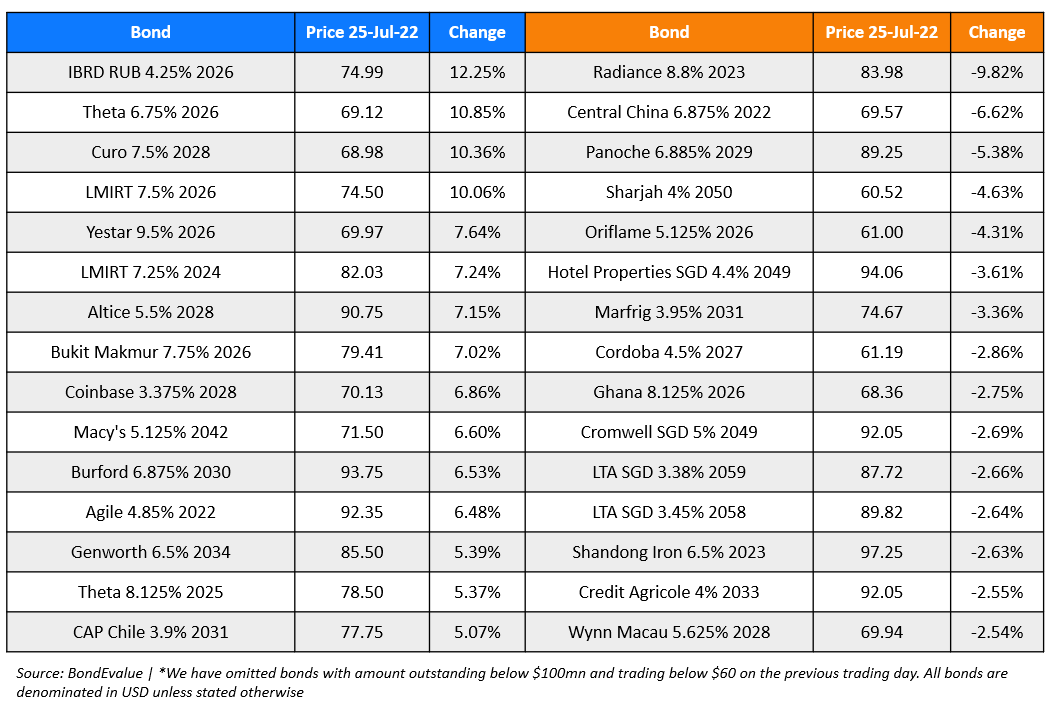 Other News
Verizon Shares See Biggest Loss Since 2008 After Outlook Cut
Macau Casinos Reopen with Dim Business Outlook Amid Travel Curbs
Telecom Italia Shares, Bonds Dip after Moody's Credit Rating Cut