US equity markets posted strong gains on Friday with the S&P and Nasdaq up 3% and 3.3%. Sectoral gains were led by Materials and Communication Services, which rose over 3.9% each. US 10Y Treasury yields were 6bp higher at 3.16%. European markets also ended higher with the DAX, CAC and FTSE up 1.6%, 3.2% and 2.7% respectively. Brazil's Bovespa was up 0.6%. In the Middle East, UAE's ADX closed flat on Friday while Saudi TASI was 1.8% higher on Sunday. Following the US markets, Asian markets have also opened higher – HSI was up 2.6%, followed by Shanghai, STI and Nikkei up 1%, 0.7% and 1% respectively. US IG CDS spreads tightened by 4.5bp and HY spreads were 27.1bp tighter. EU Main CDS spreads were 3.4bp tighter and Crossover spreads were 24.7bp tighter. Asia ex-Japan IG CDS spreads tightened 2.6bp.
---
3 Days to Go: Sovereign Debt Restructuring Masterclass | Thursday, 30 June
Just three days to go for the upcoming live masterclass on sovereign debt restructuring! The 90-minute session, to be conducted live via Zoom this Thursday, 30 June, will be conducted by Asian high yield and liability management expert Florian Schmidt.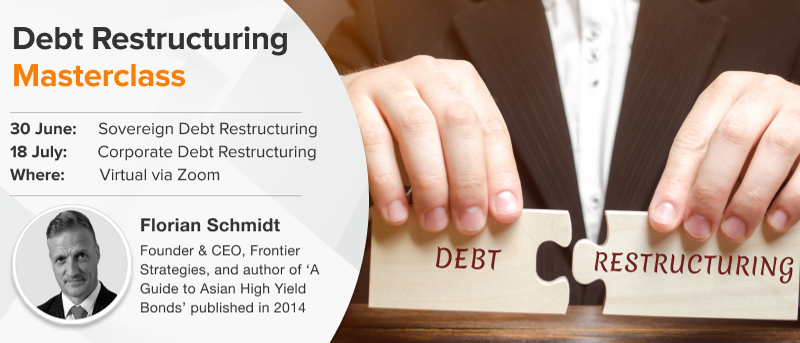 The session will be particularly insightful for bond investors who own EM sovereign debt as well as advisors whose clients hold these bonds. In particular, this Thursday's session will offer guidance on what to expect if you own dollar bonds of Sri Lanka (already defaulted) and/or other sovereigns such as Pakistan (distressed).
---
New Bond Issues
NongHyup Bank $ 3.5Y/5Y at T+130/150bp areas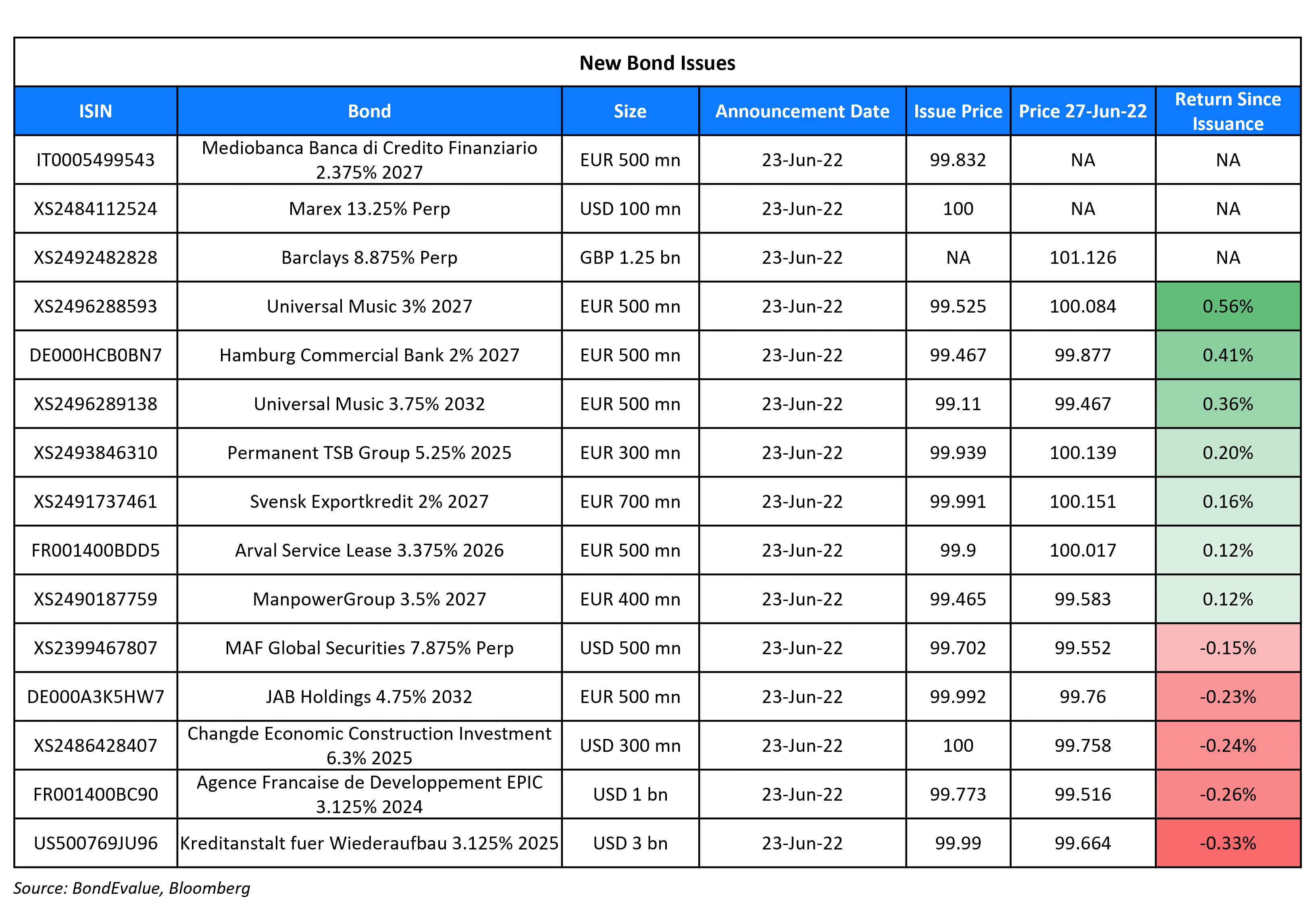 The United Arab Emirates raised $3bn via a dual-tranche deal. It raised:
$1.75bn via a 10Y bond at a yield of 4.05%, 25bp inside initial guidance of T+125bp area

$1.25bn via a 30Y bond at a yield of 4.951%, 25bp inside initial guidance of T+200bp area
The bonds have expected ratings of Aa2/AA- (Moody's & Fitch). SCMP notes that Gulf nation is issuing bonds at this time to take advantage of demand for investment grade debt amid recession fears. The proceeds will be used for domestic budgetary purposes in compliance with the state's Public Debt Strategy and/or investment by Emirates Investment Authority (EIA) pursuant to the Public Debt Strategy. The new 10Y bonds are priced 26bp wider to its existing 2% 2031s that yield 3.79%.
New Bonds Pipeline
Bank of East Asia hires for $ 6NC5 bond
Busan Bank hires for $ Social bond
Continuum Energy Aura hires for $ Green Bond
Rating Changes
Term of the Day
Fallen Angel
A fallen angel is a company or sovereign whose credit rating has been cut from investment grade to junk due to deteriorating financial conditions of the company. The downgrade to junk may have a negative impact on its bond prices as asset managers that are mandated to hold only investment grade debt may be forced to sell off their holdings in the fallen angels.
Country Garden is now a fallen angel who's rating has fallen from investment grade to high yield by both Moody's and S&P at Ba1 and BB+ respectively. Fitch is the only rating agency to hold an investment grade rating on the developer at BBB-. 
Talking Heads
On 75 bps rate hike likely needed in July – Fed's Daly
"Right now that looks like what we'll need… 75 basis point interest rate hike in July is the "starting point"… "If we get more tightening or a broader slowdown in the economy than I currently expect, then anything between 50 and 75 seems like a reasonable thing to consider"
On Frontier-Debt Buyers Looking Past Default Risk in Hunger for Yield
Lars Jakob Krabbe, money manager for frontier-market fixed income at Coeli Frontier Markets AB
"The beating in the frontier space has been much more severe than the broader emerging-market space. We are getting closer to where we see a bottom. That has to do with you having a high coupon coming to you all the time, unless credits default in a larger sense, which I doubt."
Anupam Damani, the head of international and EM debt at Nuveen
"The risk premium embedded in the market is quite substantial. In some cases, these credits have been pricing in way below recovery levels. I'm not saying all of these credits will survive but some surely will. Being selective in that space clearly offers value."
Barclays analysts
"In the higher-beta segment, total-return prospects justify overweights in select distressed frontier credits including Ghana, El Salvador and Zambia and in oil exporters Oman, Ecuador and Nigeria"
Roll up, roll up for the great blue-chip corporate bond sale!
Oleg Melentyev, head of high yield bond strategy, BofA
"In high yield, when something trades at a low price, it usually implies a significant probability of default. The yield doesn't matter as much because you probably won't recover that yield… if you have high-quality bonds trading for the same dollar price then maybe they are more attractive."
Top Gainers & Losers – 27-
June-22*