US equity markets rallied on Thursday with the S&P and Nasdaq up 2% and 2.7% respectively. Sectoral gainers were led by Consumer Discretionary, up 4.8%, followed by Financials, IT, Communication Services and Industrials, up over 2% each. US 10Y Treasury yields were 2bp lower to 2.74%. European markets ended higher as well with the DAX, CAC and FTSE up 1.6%, 1.8% and 0.6% respectively. Brazil's Bovespa closed 1.2% higher. In the Middle East, UAE's ADX was down 0.2% and Saudi TASI was up down 0.5%. Asian markets have opened stronger today – Shanghai, HSI, STI and Nikkei were up 0.5%, 2.9%, 0.5% and 0.6% respectively. US IG CDS spreads tightened 1.5bp and HY spreads tightened 15.5bp. EU Main CDS spreads were 5.5bp tighter and Crossover spreads were 24bp tighter. Asia ex-Japan CDS spreads were 5.4bp tighter.
Turkey's central bank kept interest rates unchanged at 14% for a fifth straight month, in-line with analyst estimates. Russia's central bank on the other hand, cut its key interest rate by 300bp to 11%, adding that it saw room for more cuts this year, on cooling-off of inflation from 20Y highs.
---
Advanced Two-Day Course on Bonds | 7-8 June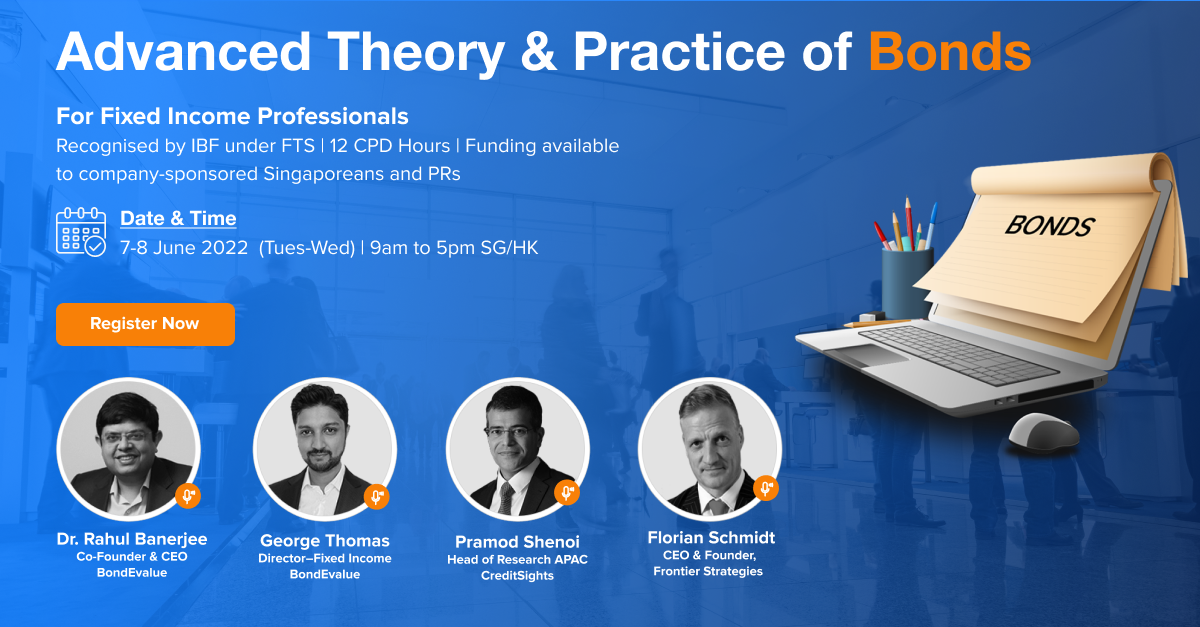 This course, designed for private bankers, wealth managers and advisors, will cover topics such as:
Bond Valuation & Risk
Bond Portfolio Optimization & Use of Leverage
New Bond Issues
Secondary Trading of Bonds with a Live Simulation
Using Excel to Understand Bond Calculations
ESG Bonds
Perpetual/AT1 Bonds
Asian High Yield Bond Analysis
When: 7-8 June 2022, 9am – 5pm Singapore/Hong Kong time
Where: 79 Robinson Road, Singapore (in-person) and Virtual via Zoom for those outside Singapore
Fees: SGD 2,140 per candidate. 80/90% IBF funding is available to eligible company-sponsored candidates from Singapore.
---
New Bond Issues

Scotiabank raised $1.5bn via a 3Y covered bond at a yield of 3.186%, unchanged from initial guidance of MS+65bp area. The bonds are rated Aaa/AAA and are backed by Canadian residential mortgages.
Thai Exim Bank raised $350mn via a 5Y bond at a yield of 3.902%, 40bp inside initial guidance of T+160bp area. The bonds will be rated Baa1/BBB+ (Moody's/Fitch), in line with the issuer. Proceeds from the Singapore-listed transaction will be used for general funding purposes.

Zhangzhou Transportation Development Group raised $500mn via a 3Y bond at a yield of 4.98%, 42bp inside initial guidance of 5.4% area. The bonds are rated BB+.
Busan Bank hires for $ Social bond
Kookmin Card hires for $ Sustainability bond
Continuum Energy Aura hires for $ Green Bond
Jubilant Pharma hires for $ bond
Sael Limited hires for $ 7Y Green bond
Rating Changes
Term of the Day
Sustainability Bonds
As per ICMA, an authority in capital markets, "Sustainability bonds are bonds where the proceeds will be exclusively applied to finance or re-finance a combination of both green and social projects." These can be issued by financial/non-financial companies, governments or municipalities and should follow guidelines by the ICMA. The green and social aspects would be aligned to ICMA's Green Bond Principles (GBP) and Social Bond Principles (SBP).
Kookmin Card has hired bankers for a dollar-denominated sustainability bond offering.
Talking Heads
On Good Progress Made Studying Sri Lanka Economy Situation – IMF
"Sri Lanka is facing difficult economic conditions and severe balance-of payments-problems… IMF staff will continue to monitor the economic and political situation very closely and engage with the authorities to formulate concrete measures under an IMF-supported program, as well as broader stakeholders to support a timely resolution of the crisis"
On US Rate Hikes Won't Necessarily Mean Weaker Yen
Bank of Japan Governor, Haruhiko Kuroda
Fed rate hikes "may affect the value of US government bonds and stock prices… So I think it's not necessarily the case that Japan's capital will flow into the US continuously, causing the yen to weaken."
Hideo Kumano, executive economist at Dai-Ichi Life Research Institute
"With inflation rates at 2%, Kuroda's remarks are under intense scrutiny by the market. Kuroda previously caused a weakening of the yen with his remarks but the comments today didn't follow the same direction. That's probably why the yen gained."
On not taking global status of U.S. dollar for granted – Federal Reserve Vice Chair Lael Brainard
"I don't think we should be taking the global status of the dollar for granted and in a world where other major jurisdictions move to the issuance of their own digital currencies it is important to think about whether the United States would continue have the same type of dominance without also issuing one"
Sam Stovall, chief investment strategist at CFRA Research
"With first quarter earnings essentially over and coming in better than expected, combined with the Fed indicating that they are going to be front-end loading its rate-tightening policy and implying it may pause later in the fall, all of that has given investors reason to feel optimistic… "If the Fed is too aggressive, they'll choke off inflation but also choke off economic growth"
Top Gainers & Losers – 26-May-22*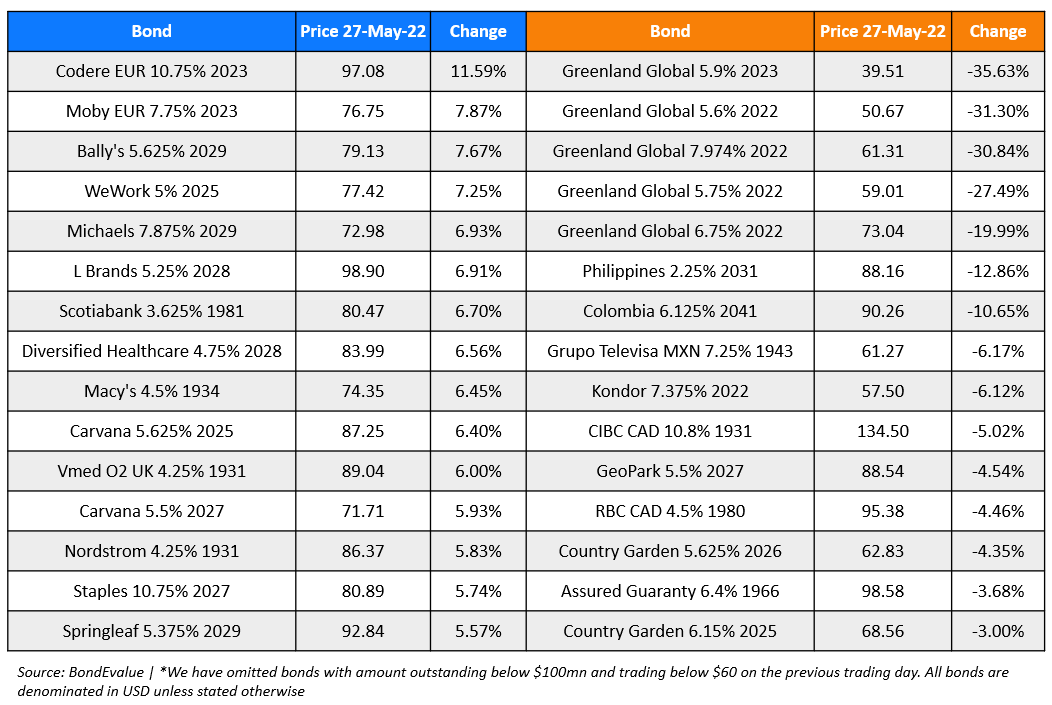 Other Stories
Alibaba Posts Slowest Revenues Growth Since Listing
---