US equity markets started the week slightly lower on Monday with the S&P and Nasdaq down 0.3% and 0.7% respectively. Sectoral losses were led by Consumer Discretionary and Communication Services, down over 1% each, while Energy was up 2.8% as oil prices inched higher. US 10Y Treasury yields were 2bp higher at 3.18%. European markets were mixed with the DAX and FTSE up 0.5% and 0.7% respectively while CAC was down 0.4%.  Brazil's Bovespa ended 2% higher. In the Middle East, UAE's ADX was up 0.3% and Saudi TASI fell 0.7%. Asian markets have opened mixed – Shanghai was flat, HSI and STI were down 0.9% and 0.3% respectively. Nikkei was up 0.1%. US IG CDS spreads widened 0.9bp and HY spreads were wider by 3.4bp. EU Main CDS spreads were 0.8bp tighter and Crossover spreads were wider by 2.5bp. Asia ex-Japan IG CDS spreads tightened 5.9bp.
---
3 Days to Go: Sovereign Debt Restructuring Masterclass | Thursday, 30 June
Just three days to go for the upcoming live masterclass on sovereign debt restructuring! The 90-minute session, to be conducted live via Zoom this Thursday, 30 June, will be conducted by Asian high yield and liability management expert Florian Schmidt.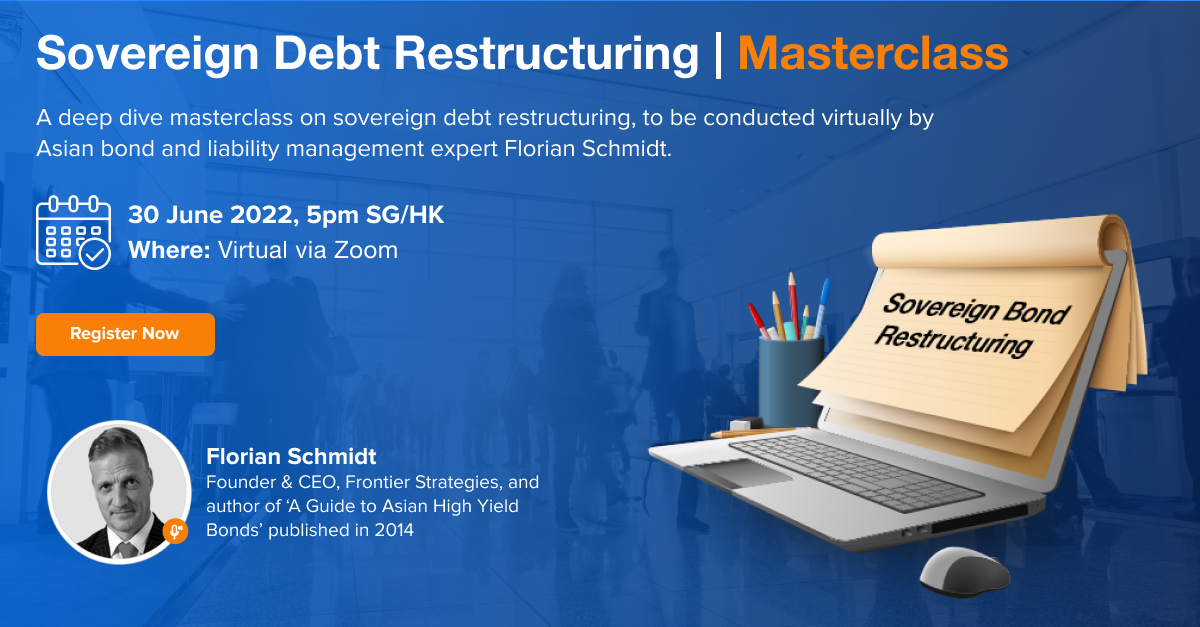 The session will be particularly insightful for bond investors who own EM sovereign debt as well as advisors whose clients hold these bonds. In particular,
this Thursday's session will offer 
guidance on what to expect if you own dollar bonds of

Sri Lanka

(already defaulted) and/or other sovereigns such as

Pakistan

(distressed)
.
---
New Bond Issues
China Railway Group $ 5Y at T+125bp area

Bank of East Asia $ 6NC5 LAC at T+210bp area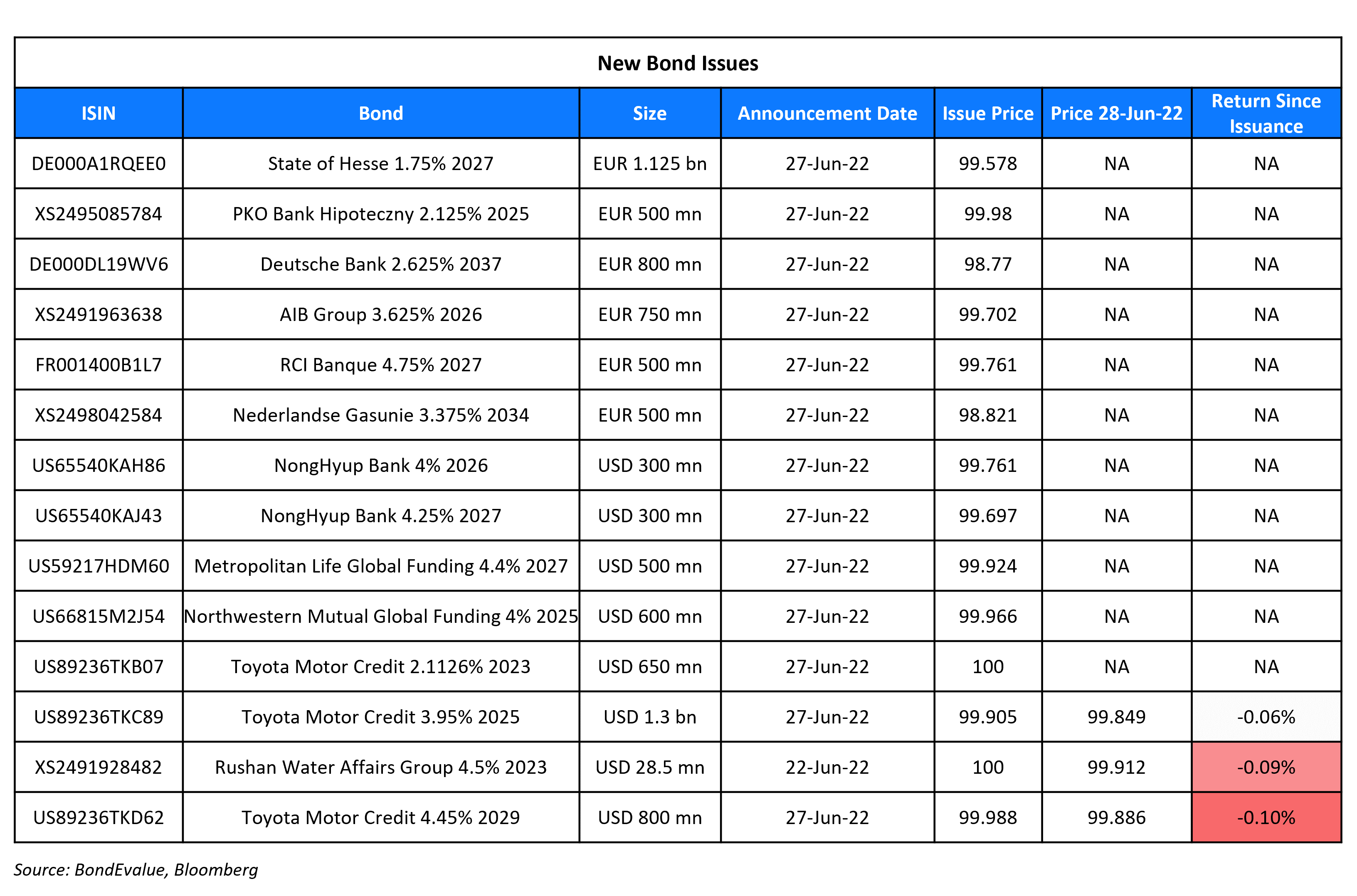 Deutsche Bank raised €800mn via a 15Y Covered bond at a yield of 2.726%, 1bp inside initial guidance of MS+27bp. The bonds have expected ratings of Aaa (Moody's), and received orders over €1bn, 1.3x issue size.
NongHyup Bank raised $600mn via a dual-tranche sustainability bond issuance. It raised $300mn via a 3.5Y bond at a yield of 4.074%, 40bp inside initial guidance of T+130bp area. It also raised $300mn via a 5Y bond at a yield of 4.318%, 40bp inside initial guidance of T+200bp area. The bonds have expected ratings of A1/A+ (Moody's & S&P) and received orders over $4.8bn. Proceeds will be used to finance and/or refinance loans extended for projects that fall within the bank's eligible social assets, including financing to support farming, affordable housing and basic infrastructure, as well as employment generation which includes small and medium size enterprise financing and microfinance in accordance with the bank's sustainability financing framework. The new 3.5Y bonds are priced 5bp wider to its existing 1.25% 2025s that yield 4.02%.
UOB raised S$400mn via a PerpNC5.25 AT1 bond at a yield of 4.25%, unchanged from initial guidance of SORA-OIS+147bp area. The subordinated bonds have expected ratings of Aa1/AA-/AA-. The bonds are callable on October 4, 2027 and if the bonds are not called by UOB, the coupon will reset on that date and every five years thereafter at the prevailing 5Y SORA-OIS benchmark rate plus the initial spread of 147 bps. The perp has a dividend stopper applicable and has a loss absorption mechanism that allows for a partial principal write-down based on the discretionary non-viability trigger event determined by the MAS. Proceeds will be used to refinance existing debt. The new bonds are priced 37bp wider to its existing 2.55% perps callable in June 2028 that yield 3.88%.
New Bonds Pipeline
Bank of East Asia hires for $ 6NC5 bond
Busan Bank hires for $ Social bond
Continuum Energy Aura hires for $ Green Bond
Rating Changes
Term of the Day
Greenium
Greenium is a term that refers to the premium that investors pay when buying green bonds vs. conventional non-green bonds. Green bonds that trade with a greenium indicate strong investor demand for those bonds, which pushes prices higher and yields lower compared to conventional bonds.
Talking Heads
On Lira's Knee-Jerk Jump Coming With Risks for Turkish Economy
Barclays analysts
"Foreign lenders might be reluctant to fully roll over existing debt after seeing the latest rule forcing firms to sell their FX liquidity… Some firms might consider delaying investments until they have a better picture in terms of their foreign-currency and lira liquidity."
On Central Banks Having a Narrow Path to Soft Landing – BIS Chief, Agustin Carstens
"There is a possibility that it can be pulled off without a major impact — with an impact on GDP but not going all the way to a recession. But this is a narrow path and we cannot dismiss the possibility of a hard landing." Central banks "are at the beginning of the effort of turning the inflation around,"
On World Bank's Reinhart Seeing More Debt Distress Risks
"With the low income countries, debt risks and debt crises are not hypothetical. We're pretty much already there…Debt crises need to be resolved through meaningful debt reduction. If not, it's a band-aid and it's a band-aid that wears off very quickly… The big hope is of a soft landing that central banks and the major economies will be able to engineer one".
On PBOC Signaling Stimulus to Prioritize Credit Growth Over Rate Cuts
Zhang Zhiwei, chief economist at Pinpoint Asset Management Ltd.
"The PBOC is focusing more on the changes in the overall quantity of social financing and loans, instead of the price of interest rate. Yi's comments show that the PBOC is reluctant to cut interest rates."
Ken Cheung, chief Asian FX strategist at Mizuho Bank
"My impression is that further room for a large rate cut would be limited"  PBOC seems to be "targeting on the aggregate financing outstanding amount."
Top Gainers & Losers – 28-
June-22*