US equity markets were closed on Monday due to a holiday on account of Memorial Day. US 10Y Treasury yields were have jumped 10bp higher to 2.84%, pulled up by the high inflation print across Europe. European markets ended higher as well with the DAX, CAC and FTSE up 0.8%, 0.7% and 0.2% respectively. Brazil's Bovespa closed 0.8% lower. In the Middle East, UAE's ADX was up 2.3% and Saudi TASI was up 1.7%. Asian markets have opened broadly higher today – Shanghai, HSI and STI were up 0.8%, 0.5% and 0.4%, while Nikkei was flat. US CDS markets were closed due to the holiday. EU Main CDS spreads were 4.3bp tighter and Crossover spreads were 10.2bp tighter. Asia ex-Japan CDS spreads were 10.7bp tighter.
German preliminary inflation data showed an 8.7% YoY jump in May, much higher than the 8.1% print expected by analysts. Spain's inflation rate hit an all-time high of 8.5% in May. The numbers come just a little over a week before ECB's meeting where expectations are for a likely liftoff in rates in July. Separately, Kenya increased its benchmark policy rate by 50bp to 7.5%, its first hike in seven years. 
---
Advanced Two-Day Course on Bonds | 7-8 June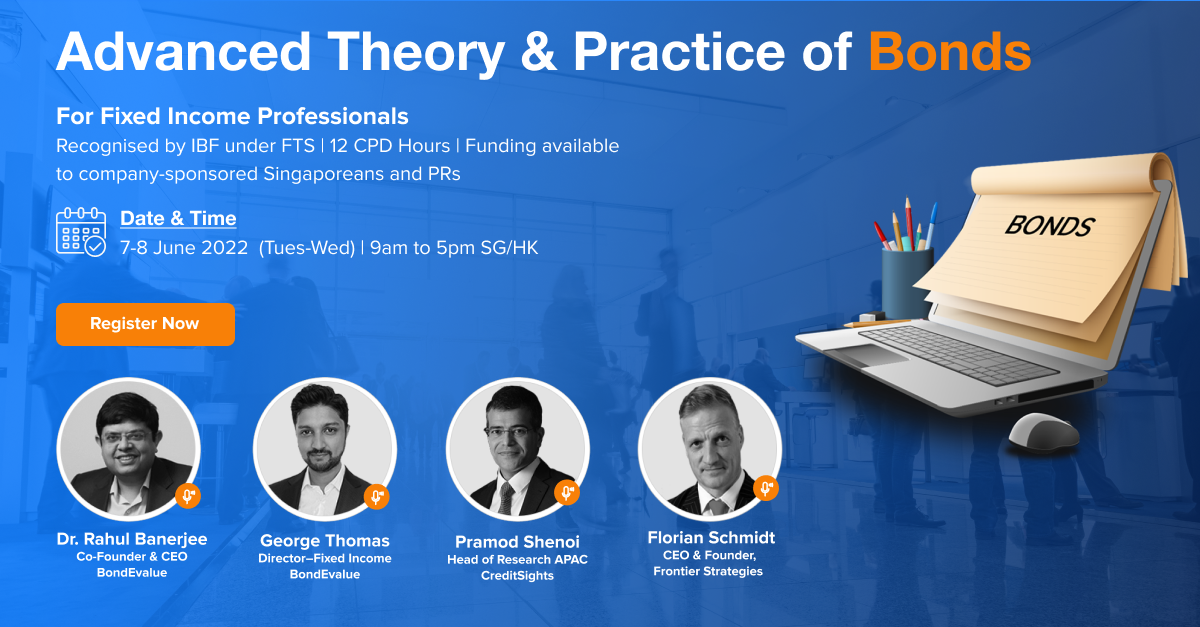 This course, designed for private bankers, wealth managers and advisors, will cover topics such as:
Bond Valuation & Risk
Bond Portfolio Optimization & Use of Leverage
New Bond Issues
Secondary Trading of Bonds with a Live Simulation
Using Excel to Understand Bond Calculations
ESG Bonds
Perpetual/AT1 Bonds
Asian High Yield Bond Analysis
When: 7-8 June 2022, 9am – 5pm Singapore/Hong Kong time
Where: 79 Robinson Road, Singapore (in-person) and Virtual via Zoom for those outside Singapore
Fees: SGD 2,140 per candidate. 80/90% IBF funding is available to eligible company-sponsored candidates from Singapore.
---
New Bond Issues
KB Kookmin Card $ 3Y at T+170bp area

NAB $ 3Y/5Y at T+100/125bp areas

Seazen Group raised $100mn via a 364-day green bond (Term of the Day, explained below) at a yield of 7.95%. The unrated bonds are issued by subsidiary New Metro Global and guaranteed by Seazen. Proceeds will be used to refinance medium to long term offshore debt that will be due within a year, in accordance with the company's sustainable finance framework. Seazen can redeem the bonds in whole at par or up to 35% of the notes at a redemption price of 107.95 before the maturity. This is first non-SBLC backed bond issuance by a Chinese property developer in 2022 and only the third deal from the sector came after Greentown China and Sino-Ocean's issuances earlier this year.
UniCredit Bank raised €500mn via a 5Y covered bond at a yield of 1.433%, 5bp inside initial guidance of MS+5bp area. The bonds are rated Aaa and received orders over €935mn, 1.9x issue size.
Taiyuan State-owned Investment Group raised $160mn via a 3Y at a yield of 4.55%, 50bp inside initial guidance of 5.05% area. The bonds are unrated and proceeds will be used to repay offshore debt.
New Bonds Pipeline
Kyobo Life hires for $ Sustainability bond

Busan Bank hires for $ Social bond
Continuum Energy Aura hires for $ Green Bond
Jubilant Pharma plans $ bond
Sael Limited hires for $ 7Y Green bond
Rating Changes
French Steel Tube Producer Vallourec Outlook Revised To Positive On New Strategic Plans; Ratings Affirmed
Term of the Day
Green Bonds
Green bonds are bonds whose proceeds are used towards financing projects that have a positive environmental impact such as renewable energy. The first green bond was issued by the European Investment Bank in 2007. Since then, the bond markets have seen green bond issues from supranationals such as The World Bank, sovereigns and corporates.
Talking Heads
On Bonds Rallying in May With Bulls Saying Selloff Is Over
Akira Takei, fixed-income money manager at Asset Management One Co.
"I expect global bonds to deliver positive returns for the rest of this year. Yields have fallen from their peaks because more and more investors see value in bonds. The worst of the bond market is behind us."
Tai Hui, chief Asia market strategist in Hong Kong at JPMorgan Asset
"It's a good time to increase your allocation to fixed income. With the valuation de-rating in fixed income — if you look at credit spreads, if you look at risk-free rates — the fixed income world is starting to look attractive again."
Paul Lukaszewski, head of corporate debt for Asia Pacific at abrdn
"Credit investors should position for a potentially bumpy ride over the foreseeable time horizon. We continue to see China as our biggest source of credit risk in Asia."
On Calling Two Quarter-Point Rate Hikes 'Benchmark Pace' – ECB Chief Economist Philip Lane
"Normalization has a natural focus on moving in units of 25 basis points, so increases of 25 basis points in the July and September meetings are a benchmark pace. Any discussion about other moves would have to make the case for moving more strongly than this sequence of hikes in July and September… The discussion will be had, but our current assessment of the situation, where we think the medium-term inflation outlook is in line with our 2% target, calls for a gradual approach to normalization"
On Backing Half-Point Rate Hikes at 'Several' Meetings – Fed's Waller
"I support tightening policy by another 50 basis points for several meetings. In particular, I am not taking 50 basis-point hikes off the table until I see inflation coming down closer to our 2% target"
Top Gainers & Losers – 31-May-22*