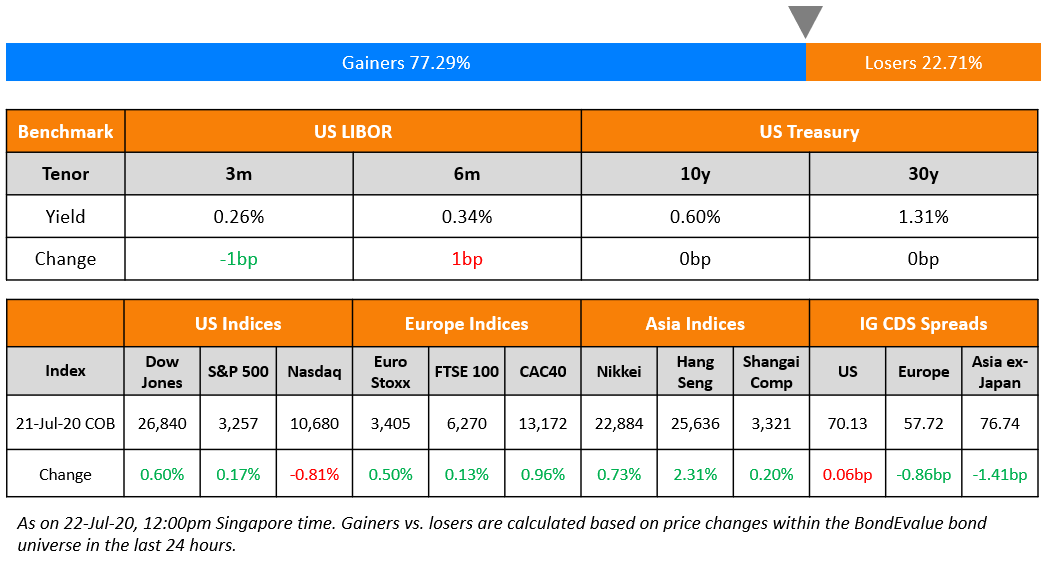 A mixed overnight session in Wall Street as Nasdaq saw some profit taking but S&P gained a tad on strong financial, industrial and energy stock performance. Markets are looking towards US lawmakers who are working on a new aid package to replace the current ones expiring in less than two weeks. European shares fared much better on the agreement of the €750bn recovery package. Europe's CDS spreads tightened and Asian dollar bond risk premiums tightened by their most in two weeks. Asian markets are having a mixed opening this morning.
We have introduced new dates to our Bond Traders' Masterclass in August. Sign up now.
New Bond Issues
San Miguel $ Perp NC5 @ 5.875% area
State Power Inv. Corp $ 5yr @ T+190bp area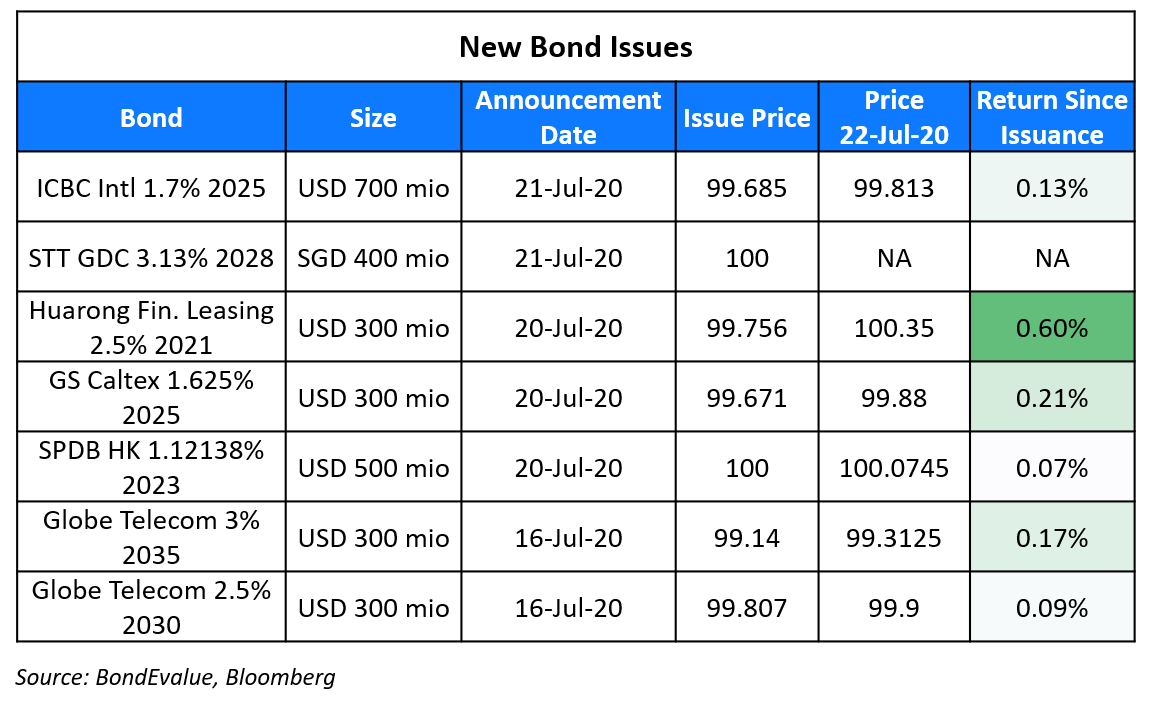 ICBC International Holdings, the investment banking arm of Industrial and Commercial Bank of China, raised $700mn via 5Y bonds to yield 1.766%, 150bp over Treasuries and 50bp inside initial guidance of T+200bp area. The bonds, with an expected rating of A2, received orders over $3.9bn at the time of final guidance, 5.6x issue size. Wholly owned subsidiary Horse Gallop Finance is the issuer and the parent company is the guarantor.
ST Telemedia Global Data Centres (STT GDC) raised S$400mn ($289m) via 8Y bonds at a yield of 3.13%, 22bp inside initial price guidance of 3.35% area. The bond received orders exceeding S$3bn, 7.5x issue size.
Rating Changes
Moody's downgrades Selecta's corporate family rating to Caa3; outlook negative
Moody's places Banca Monte dei Paschi di Siena's ratings under review for upgrade on derisking transaction
Moody's downgrades ratings for Spirit AeroSystems (CFR to B2); outlook negative
JSL S.A. 'BB+' Global And 'brAA+' National Scale Ratings Placed On CreditWatch Negative On Corporate Reorganization
Argentine Conglomerate CLISA Senior Secured Note Rtg Raised To 'CCC-' From 'D' On Interest Capitalization On PIK Option
eBay's Classified Ads Business Sold to Norway's Advinta for $9.2 Billion
Norway's Advinta has reached an agreement to buy eBay's Classified Ads Business for $9.2bn, beating the competition that included Blackstone and Prosus during an auction. With the procurement of one of the oldest internet businesses, the merged entity will become the largest online classifieds company. The sale by eBay of its classified ads business is aligned with its strategic review announced last year. Even after the sale, eBay would continue to be a part of the online classifieds ads indirectly as the transaction includes a cash component of $2.5bn and a stock component of 540mn Advinta shares that correspond to ~44% of the online classifieds major. "This sale creates short-term and long-term value for shareholders and customers, while allowing us to participate in the future potential of the Classifieds business," said eBay CEO Jamie Iannone.
The bonds of ebay were slightly up with its 4% bonds due 2042 trading at 111.5, up 0.83 points.
For the full story, click here
Bed Bath & Beyond Inc Settles Dispute with 1-800-flowers.com to Sell PersonalizationMall.com
Bed Bath & Beyond Inc has reached a deal with 1-800-Flowers over the sale of its web property PersonalizationMall.com to 1-800-Flowers for $250mn. The transaction is likely to close by August 3, after which Bed Bath & Beyond will withdraw its existing litigation. The home furnishing company had sued 1-800-Flowers in April after the buyer showed signs of delaying the purchase of the personalized gift company amidst the pandemic. "While we still desire to proceed with the transaction, we maintain that the conditions to closing the transactions have not been satisfied in light of the consequences of COVID-19 pandemic, including the shut-down of the PersonalizationMall.com facilities until at least Apr 30, 2020," the company had said at the start of the pandemic. However, Bed Bath & Beyond sued 1-800-Flowers arguing that "Even a calamitous event such as COVID-19 does not permit a party to avoid its obligations." The original deal was valued at $252mn and was supposed to close by March 30. As per the latest settlement, 1-800-Flowers would complete its purchase by the beginning of August "subject to certain working capital and other adjustments".
The bonds of Bed Bath & Beyond traded slightly up with its 5.165% bonds due 2044 trading at 56.5 cents on the dollar, up 2.25 points and its 4.915% bonds due 2034 trading at 62 cents on the dollar, up 2.5 points.
For the full story, click here
S&P Expects GCC Sovereign Debt to Swell By $100 Billion in 2020
In a report published on Monday, S&P Global Ratings said that government funding needs of countries in the Gulf Cooperation Council (GCC) have increased significantly this year on the back of low oil prices and the economic shock of the pandemic. It expects total GCC debt to swell by a record $100bn this year with an additional $80bn run-down in government assets to finance a total fiscal deficit (Term of the day, explained below) of $180bn. The rating agency added that it expects GCC government balance sheets to continue to deteriorate till 2023 with a total GCC central government deficit of $490bn between 2020 and 2023. Drilling down into the expected $490bn deficit, Saudi Arabia accounts for the lion's share with 55%, followed by Kuwait with 17% and Abu Dhabi with 11%. The average fiscal deficit for GCC countries in 2020 is expected at 18% vs. 5% in 2019. Bahrain, Oman, Qatar and Saudi Arabia are expected to fund the majority of their deficits via debt while Abu Dhabi and Kuwait are likely to depend on asset sales. GCC countries have already raised $35bn via the international bond markets so far this year, with the deals listed in the table below sorted by issue date.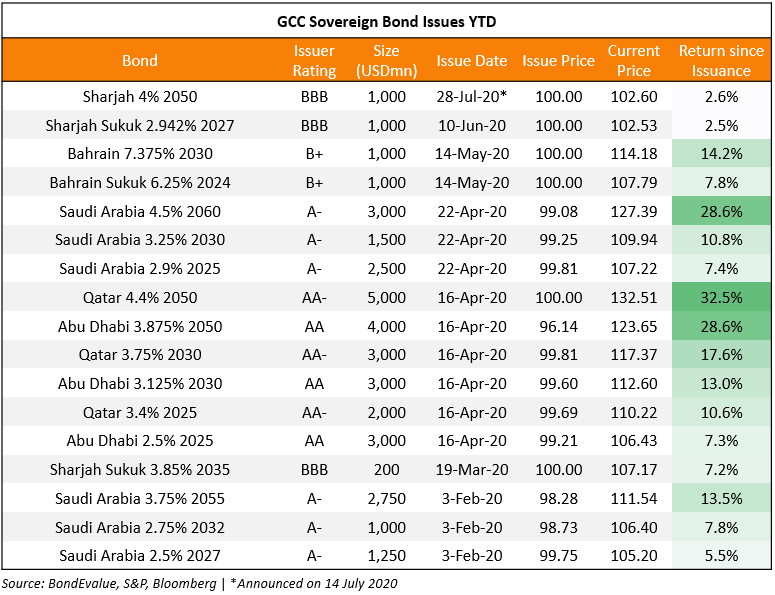 S&P added that while Oman has not tapped the international bond markets yet , it is expected to do so in the second half of 2020.
For the full story, click here
Emirates REIT Considers De-listing from Nasdaq Dubai
Dubai-based Emirates REIT announced on Sunday that Equitativa, the REIT Manager has decided to launch a "comprehensive review of strategic options" for the REIT, including a possible de-listing from Nasdaq Dubai. The press release stated that the Emirates REIT Board believes that the disadvantages of being publicly listed heavily outweigh the advantages. It added that the current environment in UAE's public equity markets has led to a significant fall in its share price leading to an "unjustifiably large gap between the fund's share price and its true value". This has been further aggravated by the cyclical downturn in the real estate market in the gulf nation. The shariah-compliant REIT stock has lost 75% of its value since the start of the year, currently at $0.14. In further bad news for the real estate trust, its manager Equitativa is being investigated by the Dubai Financial Services Authority (DFSA) for matters connected to the management of Emirates REIT, specifically on valuation, information and interests and corporate governance. This has put a strain on its 5.125% bonds due 2022, which have lost a third of its value since the start of the year to currently trade at 65.4 cents on the dollar with a massive 10 point bid-ask spread.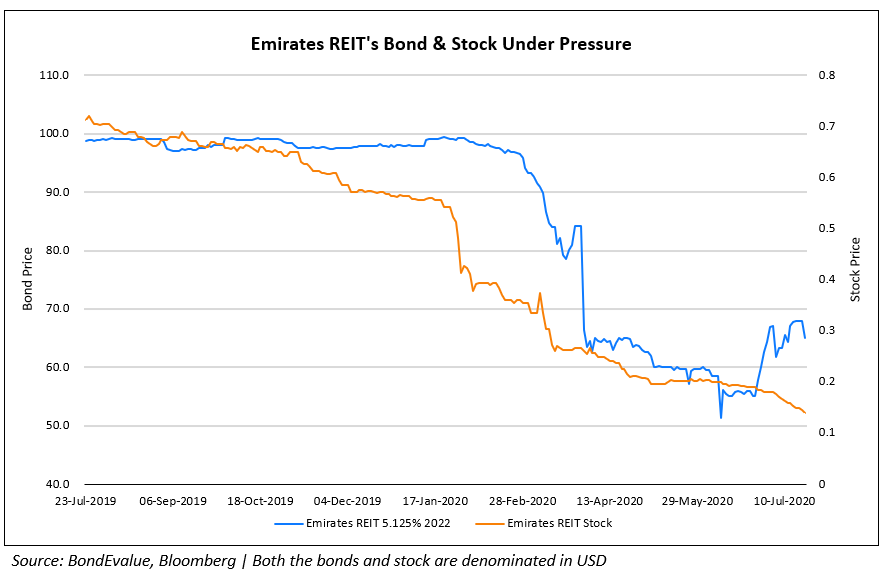 For the full story, click here
Banca Monte dei Paschi di Siena's Rating on Review for Upgrade on Transfer of Bad Loans
The world's oldest bank, Banca Monte dei Paschi di Siena's (MPS) rating has been placed on review for upgrade by Moody's following the company's announcement related to restructuring. MPS had reached an agreement with state-owned Asset Management Company S.p.A. (AMCO) for the transfer of €8.1bn worth of gross bad loans, in addition to other assets, liabilities and equity. The bank expects this transaction to shrink its pro-forma NPL ratio to 4.3% from 12.4% at the end of 2019 albeit with a negative impact on its capital, pushing its CET1 ratio to 13.3% from 14.7% at 2019-end. Moody's expects the transaction to be credit positive for MPS. MPS's bonds traded slightly higher with its 5.375% and 8% bonds due 2028 and 2030
Term of the Day
Fiscal Deficit
Fiscal balance is the difference between a government's total revenue (total taxes and non-debt capital receipts) and its total expenditure. A fiscal deficit is when the government's expenditure exceeds its income. Fiscal deficits are typically stated as a percentage of the economy's GDP. A deficit or gap is generally filled by borrowing from the central bank of the country or by raising money from capital markets through debt instruments. A recurring high fiscal deficit implies that the government is spending beyond its means and could lead to a default in an extreme case.
Talking Heads
On shaking up the European Bond Markets
Holger Schmieding, chief economist at Berenberg Bank
"For the first time, the European Union will be a major force on sovereign debt markets."
Sébastien Galy, senior macro strategist at Nordea Asset Management
"Such common liabilities for the European Union are unprecedented in size."
Florence Pisani, global head of economic research at Candriam
"At a time where markets are looking for safe borrowers, this should be an example for other supranational institutions (like the World Bank) to finance badly needed investments, in particular to fight global warming."
On Egypt's Revised Debt Strategy – Mohamed Hegazy, head of the Finance Ministry's debt management unit
"Attractive yields and reaching an agreement with the IMF helped us attract foreign inflows in this difficult time. We could tap the international bond market in this fiscal year if needed with dollar-denominated bonds and/or euro-denominated bonds issuance with the same size as last year."
Egypt is in an advanced stage of issuing a $500 million green bond and awaiting final approvals to sell Shariah-compliant debt, Hegazy said. The targets are mainly Islamic banks and funds in Egypt and the Gulf, which he said, "keep asking us about Islamic products." "Sukuk will help us diversify our investor base as well as reduce the borrowing cost given that yields on sukuk are less than bonds," Hegazy said.
Top Gainers & Losers – 22-Jul-20*