Investors are grappling between upbeat economic data and the surging number of coronavirus cases. Economic data from the US and Europe recovered with IHS Markit's Eurozone flash PMI at 47.5 from May's 31.9, US Markit PMI at 49.6 from 39.8 and US home sales surged 16.6% to near pre-covid levels. News about the US-China trade deal being intact and US Treasury Secretary Steve Mnuchin's comments about further stimulus also gave markets something to cheer about. Some of the earlier gains in the markets on Monday and Tuesday were given up as some states in the US recorded their highest daily cases of the virus and also news about the EU planning to include the US along with Brazil and Russia in the list of countries with travel restrictions. In the end, markets are still up and have pushed government bond yields in the US and Europe higher. Asia ex-Japan CDS spreads have narrowed along with US and Europe IG CDS spreads and issuers continue to raise funds. Asian dollar bond spreads have tightened to their lowest in three months.

Learn more about our masterclass happening tomorrow.
New Bond Issues
Swiss Re S$ 15NC5 @ 3.6% area
China Aoyuan Group $ 3.6NC2.6 @ 6.75% area
NagaCorp $ 4NC2 @ 8.75% area
Rugao Economic and Trade Dev. $ 3yr @ 3.9%
New Oriental Election $ 5yr @ T+220bp area
Agile Group Holdings raised $500mn via 4.5Y non-call 2.5Y (4.5NC2.5) bonds at a yield of 5.75%, 37.5bp inside initial guidance of 6.125% area. The bond, expected to be rated BB, received final orders exceeding $1.46bn, almost 3x issue size.
Hong Kong-listed Sino-Ocean Capital Holding raised $300mn via 364-day bonds at a yield of 5.625%, 50bps inside initial guidance of 6.125% area. The bonds received final orders exceeding $2bn, 6.67x issue size. The unrated bonds will be issued by Mega Wisdon Global and guaranteed by Sino-Ocean Capital and Fortune Joy Ventures.
Property developer Ronshine China Holdings raised $160mn via a tap of its 7.35% bonds due 2023, priced at a yield of 6.9% (price of 101.357), 40bps inside initial guidance of 7.3% area. This brings the total outstanding to $410mn. The tap received final orders exceeding $825mn, 5.16x issue size.
Another property developer Sichuan Languang raised $200mn via a tap of its 11% bond due 2022, priced at a yield of 10.55% (price of 100.746), 45bp inside initial guidance of 11% area. This brings the total outstanding to $450m. The tap received final orders exceeding $1.01bn, 5.25x issue size.
Rating Changes
Moody's downgrades Oman's rating to Ba3, changes outlook to negative
Fitch downgrades Hilong to restricted default (Term of the day, explained below)
Moody's downgrades TAP SA's CFR to Caa2, outlook negative
U.S.-Based Carnival Corp. Downgraded To 'BB-' From 'BBB-', Ratings Remain On CreditWatch Negative; New Debt Rated
Comstock Resources Inc. Upgraded To 'B-', Removed From CreditWatch Positive Following Note Issuance, Outlook Stable
Moody's changes outlook on Evergrande and its subsidiaries to negative from stable
Fitch Revises Oil India International's Outlook to Negative, Affirms IDR at 'BBB-'
Fitch Revises ICL's Outlook to Stable; Affirms at 'BBB-
Hunt Companies Inc. Outlook Revised To Negative On Potential For Higher Leverage; 'BB-' Ratings Affirmed
S&P Downgrades Carnival to BB-; Royal Caribbean Cancels Cruises till Sep 15
The cruise industry has been hit hard by the pandemic. The demand for cruise liners has slumped and the resumption is likely only in phases over the next one year. The sagging demand has resulted in the rating agency S&P downgrading US-based Carnival Corp to junk at BB- from BBB- with a negative outlook. The rating action is based on a poor forecasted demand throughout 2021, which could result in a decline of 10-20% in net revenue yield from 2019 levels. Total revenues were 25-30% below 2019 levels. The rating agency also predicts an increase in the adjusted leverage to 10x in order to sustain the company during this period of crisis. The rating action follows a similar action by Moody's last month. The company has fully drawn a credit line of $3bn and issued $6.6bn in bonds and equity as reported by Reuters. The 6.65% bonds maturing in 2028 were seen trading lower by 4.14 at 83.23 cents on the dollar. The details of some of the bonds are as per the graph below.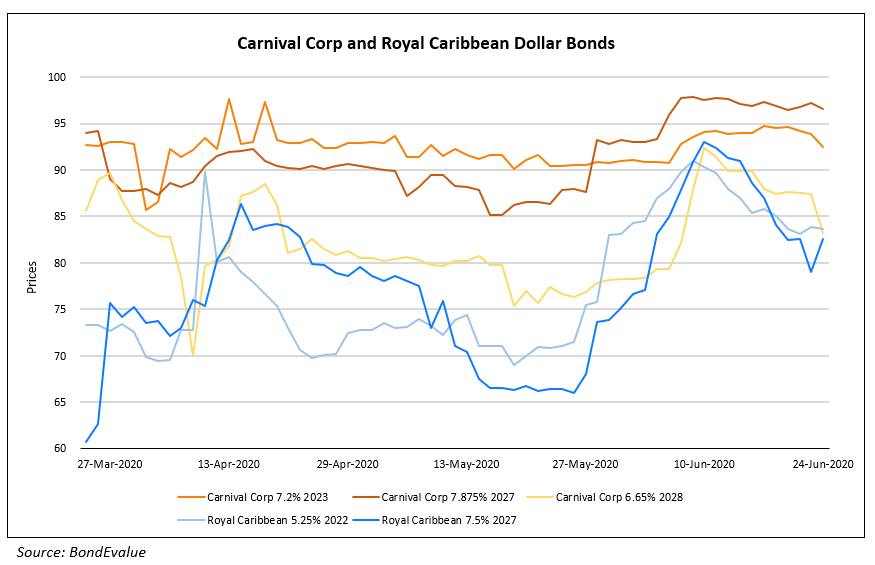 In a related news, Business Insider reported that Royal Caribbean cancelled more cruises till September 15 indicating the weak demand in the cruise sector. The 7.5% bonds due 2027 traded at $82.56, up 3.5 points and the 5.25% bonds due 2022 were stable at $83.6.
For the full story on Carnival Corp, click here, on Royal Caribbean, click here
Oman Downgraded Deeper Into Junk to Ba3 by Moody's
Moody's on Tuesday downgraded the Government of Oman's issuer and senior unsecured rating to Ba3 from Ba2 and changed its outlook to Negative. The rating agency had placed Oman on review for downgrade on March 30. Moody's said that it is unlikely that the government will be able to offset oil revenue losses and pare its debt given the lower oil price environment, which it expects to persist for the medium term. That being said, the rating agency added that the government still has access to a relatively robust stock of liquid fiscal and foreign currency reserves and it has scope to slow the pace of balance sheet deterioration via spending and revenue measures. Moody's added that it expects some of the higher-rated Gulf Cooperation Council (GCC) sovereigns to be willing to offer financial support to Oman should its ability to access external financing remain constrained. Moody's also downgraded Oman Sovereign Sukuk SAOC, an SPV who's debt is the obligation of the Government of Oman, in Moody's view. Oman's dollar bonds remained largely unchanged with its 6% and 6.75% bonds due 2029 and 2048 up ~0.10 points to 95.56 and 88.80 respectively.
For the full story, click here
HPCL-Mittal Energy Seeks to Amend Terms of Its Dollar Bonds
Indian refiner HPCL-Mittal Energy is seeking to amend terms of its $300mn 5.45% bonds due 2026 and its $375mn 5.25% bonds due 2027. The proposed amendments, which include increasing its permitted leverage ratio till 31 March 2023, will allow it to draw down credit lines to complete an expansion project that would increase its polymer production capacity. The issuer is offering to strengthen the terms of its change of control clause by proposing that any sale of voting shares by state-owned Hindustan Petroleum (HPCL) before April 2023 will constitute and change of control. HPCL owns 49% in HPCL-Mittal Energy. It is also offering bondholders a payment of $5 per $1,000 in principal if they agree to the amendment by the early bird deadline of July 3, and $2 if they agree between July 3 and 14. The bonds were largely unchanged with the 2026s and 2027s trading at 98.01 and 96.56 respectively.
For the full story, click here
American Airlines Bonds Fall as It Looks to Raise $3.5bn
The loss of business and the liquidity crunch has been troubling US airlines since the pandemic started. American Airlines has the large debt among the largest US airlines and the loss of revenue due to restricted travel has forced it to once again tap the markets to raise further debt of at least $3.5bn. The company has raised about $2bn via stock and convertible bonds and is looking to raise a further $1.5bn in bonds. It raised ~$1bn by issuing 74.1mn shares at $13.5 a share and $1bn of convertible bonds that mature in 2025 at a yield of 6.5%. Bloomberg reported that the yield on its proposed $1.5bn 5Y bonds will be in the 12% range, according to people with knowledge of the matter.
Even though the offerings of the airline are expected to be rated in the double B region, the yield on the bond is closer to that of CCC debt. S&P has rated the proposed $500mn term loan and $1.5bn secured notes as B+. The proposed yield is much higher than its rivals like Delta Airlines, which had sold bonds at a yield of ~7.25% earlier this year. The news was viewed with concern by the market which resulted in a fall in the bond and the stock prices. The 3.75% and 5% bonds due 2025 and 2022 respectively were trading at 54.15 and 65.64 cents on the dollar, both down by 2.63 points.
In a related news United Airlines said on Tuesday that it planned to raise $3bn in debt through 7Y senior notes indicating the liquidity crunch in the industry. The airline had abandoned a $2.25bn sale of junk bonds earlier in May. The bonds of the airlines were largely unchanged on the secondary market.
For the full story, click here
China's Offshore Bond Defaults Soar While Onshore Defaults Fall
Defaults on Chinese dollar bonds this year has reached $4bn, up 150% compared to the same period last year and above the total for all of 2019, according to Bloomberg. Defaults on onshore bonds on the other hand have fallen 31% to CNY 38bn ($5.4bn) compared to the same period last year. Ivan Chung, an analyst from Moody's attributes the fall in onshore defaults to ample liquidity available in the local bond markets and strong support from the government, which has allowed even weaker companies to refinance. He added, "The defaults this year showed that if they are mired in a debt crisis, they won't do so anymore likely because they want to win support from domestic financial institutions for restructuring. Offshore investors will more likely end up in a disadvantageous position." Owen Gallimore, head of credit strategy at ANZ Bank has a different view wherein he attributes the divergence between offshore and onshore defaults to different criteria for classification of a default. He said, "Despite onshore RMB bond defaults dropping in 2020, the reality is far more nuanced. Different criteria used to classify defaults and the growing popularity of temporary debt reprieves are concealing the financial difficulties facing China's private sector."
For the full story, click here
BEV Term of the Day
Restricted Default
Fitch defines Restricted Default (RD) as the rating for an issuer that has defaulted on a bond, loan or other financial obligation but has not filed for bankruptcy or entered into liquidation or any other formal winding-up process, and which has not ceased operations. RD is different from Default (D) in that Fitch rates an issuer as default if, in its opinion, the issuer has entered into bankruptcy filings, liquidation or any other formal winding-up process.
For Fitch's rating definitions, click here
Talking Heads
On the disconnect between the real economy and financial markets – Piyush Gupta, the chief executive of DBS Group Holdings
According to Piyush Gupta, the amount of stress on the real economy will be "huge" after months of lockdowns. "Everything suggests the recovery is going to be long and drawn out, including in China," Gupta said. "I don't think this V-shaped recovery is going to persist. China needs demand from the rest of the world as well."
Gupta also said there also is a lot of retail money in the markets right now and some investors may have missed out on this because they were looking at fundamentals. There is a likelihood of a correction to bring the markets in line with fundamentals, he added. That view is in line with what is suggested by market analysts, who have highlighted the risk of financial markets getting ahead of economic reality.
On Another US Stimulus Package – Steven Mnuchin, US Treasury Secretary
The Trump administration is discussing another round of economic stimulus package with lawmakers that could be passed in July, said Treasury Secretary Steven Mnuchin. "It's something we're very seriously considering," Mnuchin said, adding that he expects the U.S. economy to exit recession by the year's end. Mnuchin reiterated that he and the president are not inclined to shut down the economy a second time, given that the previous shutdown in March and April left more than 40 million people out of work. He added that, "Whatever we do will be much more targeted and much more focused on jobs and bringing back jobs."
On the adoption of yield curve control policy- James Bullard, Federal Reserve Bank of St. Louis President
James Bullard said that a strategy of capping Treasury yields out to a certain maturity may not work and such yield-curve control seems unnecessary with the market pricing in rates near zero out into the future. "Right now, there are more questions than answers about this…we are already expecting rates to be low for quite a while," Bullard said Tuesday.
"The U.S. had yield curve control during World War II, and after the war the exit from yield curve control was very difficult," Bullard said. "That is one of the main concerns about going in this direction." Bullard also said that the effects of the virus have turned out so far to be less severe in the U.S. than initially feared.
On China's economic recovery – Aidan Yao, senior economist at AXA SA in Hong Kong
Gross domestic product will expand at 1.5% in the second quarter from a year earlier, according to the median estimate of economists in a Bloomberg survey last week. That's faster than 1.2% growth seen in the last survey in May. Economists also increased their full-year growth projection to 1.8% from 1.7%. However, while industry is growing, households are still wary, and consumption remains in contraction. "With industrial production and services output both resuming growth, we now expect a positive GDP growth print for the second quarter," said Aidan Yao
By contrast, China Beige Book, which surveyed more than 3,300 firms in the country, said the economy contracted again in the three months to June and is heading for a full-year recession.
On US inflation rates – Emmanuel Roman, chief executive officer of PIMCO
Inflation in the U.S. is likely to come back slowly, keeping the Federal Reserve from raising interest rates for an extended period, according to Roman. Led by the Fed, central banks have been cutting interest rates and buying securities to combat the effects of the coronavirus pandemic, an intervention that helped stabilize global markets.
PIMCO also said that the U.S. economy probably will not return to 2019-level gross domestic product until the end of 2021. The housing and technology sectors are strong, but it is harder to tell about the recovery for retail, leisure, gaming and oil and gas.
On junk bonds breaking record sales – Bill Zox, a high-yield bond portfolio manager at Diamond Hill Capital Management.
Companies are building cash war chests to survive the global pandemic raised funds in the U.S. high-yield market at the fastest monthly pace ever. Junk issuers have already sold $46.7bn of bonds in June, surpassing the prior monthly record of $46.4bn in September 2013, according to Bloomberg.
"You get an invitation to a party from the Fed, Treasury and Congress- they offer to pick you up, take you home and bring you breakfast in bed the next morning," said Bill Zox. "You know it is going to be a party like no other," said Zox, whose firm oversees more than $20 billion in assets.
Top Gainers & Losers – 24-Jun-20*