US equities moved higher again with the S&P and Nasdaq up 0.7% each as the risk-on sentiment continues. Barring Consumer Discretionary which was down 0.3% all sectors were in the green led by Healthcare, Utilities and Energy, up over 1.1-1.3%. US 10Y Treasury yields eased 1bp to 1.58%.
European stocks were less buoyant with the DAX up 0.3%, CAC flat and FTSE up 0.2% respectively. Brazil's Bovespa ended sharply lower by 3.3%. In the Middle East, UAE's ADX was 0.1% lower and Saudi TASI was up 0.3%. Asian markets have started on a mixed footing – Shanghai was down 0.2%, HSI up 1.4%, while the Nikkei and STI were up 0.2% each.
US IG and CDS spreads were 0.7bp tighter flat and HY CDS spreads were 3.9bp tighter. EU Main CDS spreads were 0.7bp tighter and Crossover CDS spreads were 4bp tighter. Asia ex-Japan CDS spreads tightened by 0.9bp.
---
New Bond Issues
TSMC $ 5/10/20/30Y at T+85/115/135/145bp area
Indofood CBP Sukses Makmur $ 10.5/30.5Y at T+220/300bp area
Sino-Ocean Capital Holding $ 364-day at 6.375% area
Hunan Xiangjiang New Area Development Group $ 5Y at 3% area
Muang Thai Life $ 15.25NC5 tier 2 at T+275bp area
Hualu Holdings $ 5Y at 2.8% area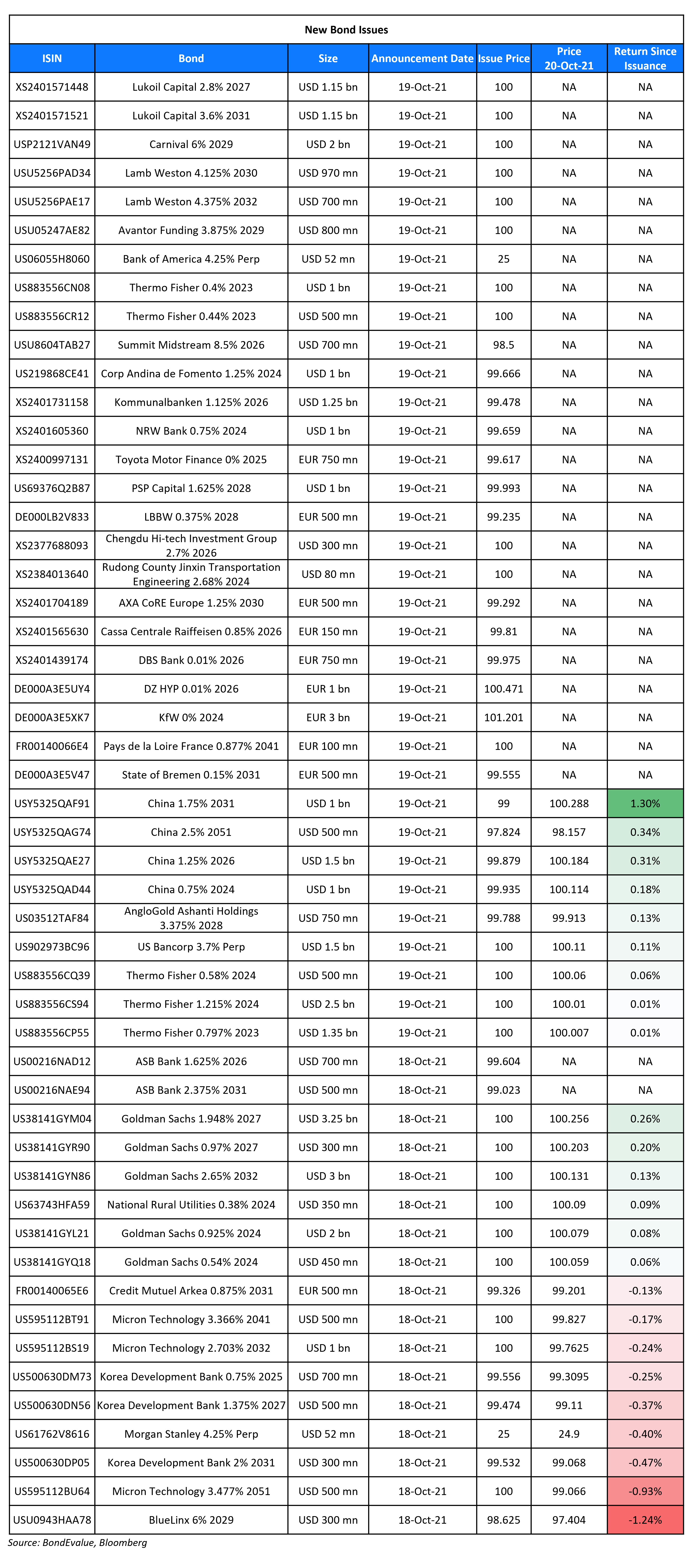 Carnival raised $2bn via a 7.5NC3 bond at a yield of 6%, unchanged from initial guidance of 6% area, and upsized from an original planned size of $1.5bn. The bonds have expected ratings of B (S&P). Proceeds will be used to make scheduled principal payments on debt during 2022 and for general corporate purposes. The new bonds are priced 38bp wider to its existing 6.65% 2028s that currently yield 5.62%.
DBS raised €750mn via a 5Y bond at a yield of 0.015%, 4bp inside initial guidance of MS+10bp area. The bonds have expected ratings of Aaa/AAA (Moody's/Fitch), and received orders over €1.35bn, 1.8x issue size.
China
raised $4bn via a four-tranche deal, which received combined orders over $26.5bn, 6.6x issue size.

The new 2024 bonds are priced 1.2bp wider to its existing 0.0195% 2024s that yield 0.76%.
Chengdu Hi-Tech Investment Group raised $300mn via a 5Y bond at a yield of 2.7%, 30bp inside initial guidance of 3% area. The bonds have expected ratings of Baa3/BBB (Moody's/Fitch), and received orders over $1.55bn, 5.2x issue size. According to Moody's, the issuer is 90%-owned by the Chengdu Hi-tech Administrative Committee on behalf of China's Chengdu government in August. The remaining 10% is owned by the Sichuan Provincial Finance Department.
Rudong County Jinxin Transportation Engineering raised $80mn via a 3Y bond at a yield of 2.68%, 7bp inside initial guidance of 2.75% area. The bonds are unrated. The bonds are supported by a letter of credit from Huishang Bank. The issuer is a local government financing vehicle in Rudong county, Nantong city in China's Jiangsu province that focuses on infrastructure construction and land development.
New Bonds Pipeline
KB Securities hires for $ bond
IOI Corp hires for $ senior bond alongside tender offer

Hibiscus Petroleum hires for $ 5NC2 bond
Rating Changes
Term of the Day
Chapter 11
There are different types of bankruptcies in the US. Chapter 11 is know as the "reorganization" bankruptcy and is available to individuals, sole proprietorship, partnerships and corporations. Corporations file for chapter 11 so that they can continue to operate while being protected from creditors claims to collection activities and property repossession. Petitions to file for chapter 11 can be voluntary or involuntary. In the case of a voluntary filing, the debtor must provide a schedule that provides details of its financial position. Upon filing a voluntary petition for relief under chapter 11 or, in an involuntary case, the entry of an order for relief, the debtor automatically assumes an additional identity as the "debtor in possession." Once the petition is filed, there is an automatic stay order that suspends all judgments, foreclosures, collection activities, and property repossessions by creditors that arose before the petition. The bankruptcy court requires debtors to propose a restructuring plan within 120 days from the date of filing, which then grants the debtor another 180 days to obtain confirmation of the restructuring plan. The plan is deemed to have been accepted by courts if it is accepted by creditors with at least two-thirds in amount and at least half of the number of allowed claims.
Talking Heads
On HNA creditors rebelling against Chinese conglomerate's restructuring plan
Anonymous Creditors
"We want the government to see our disagreement and anger and pressure HNA . . . to adjust and redraft a fair proposal"
"This is a result that the CPC Central Committee and the State Council absolutely do not want to see!"
"Our dignity cannot be trampled on! We will never give up"
On Global bond allocation drops to record low on inflation scare – BofA
Damian Sassower, chief emerging-markets credit strategist at Bloomberg Intelligence
"The problem now is where is even the income in my fixed income?"
Lon Erickson, a portfolio manager and managing director of fixed-income strategies at Thornburg Investment Management Inc.
It's still possible to find some value hidden in marketplaces with a global perspective, but investors need to be cautious in reaching for yield as "you may get your arm chopped off". He added, "Markets have likely seen their secular, long term lows in interest rates," and the outlook for rising yields is "likely to provide a negative sign in front of 2022 total returns for bond holders".
Lutz Roehmeyer, chief investment officer at the Berlin-based money manager
"If rates spike between now and year-end, you have to buy the dip on bonds…We will have to live with easy monetary policy for the long term and this keeps me very confident that rates will not rise too high."
On S&P Seeing Risk of Rising 2022 Defaults as 'Key Lifelines' Vanish
"We expect that the combination of strong recovery prospects for CCC rated companies and less supportive governments and financing conditions would lead the strongest companies to be upgraded and the weakest to default".
On Tapering Next Month and View on Rate Hike – Federal Reserve's Christopher Waller
"While there is still room to improve on the employment leg of our mandate, I believe we have made enough progress such that tapering of our asset purchases should commence following our next FOMC meeting, which is in two weeks… I believe the pace of continued improvement in the labor market will be gradual, and I expect inflation will moderate, which means liftoff is still some time off
Top Gainers & Losers – 20-Oct-21*