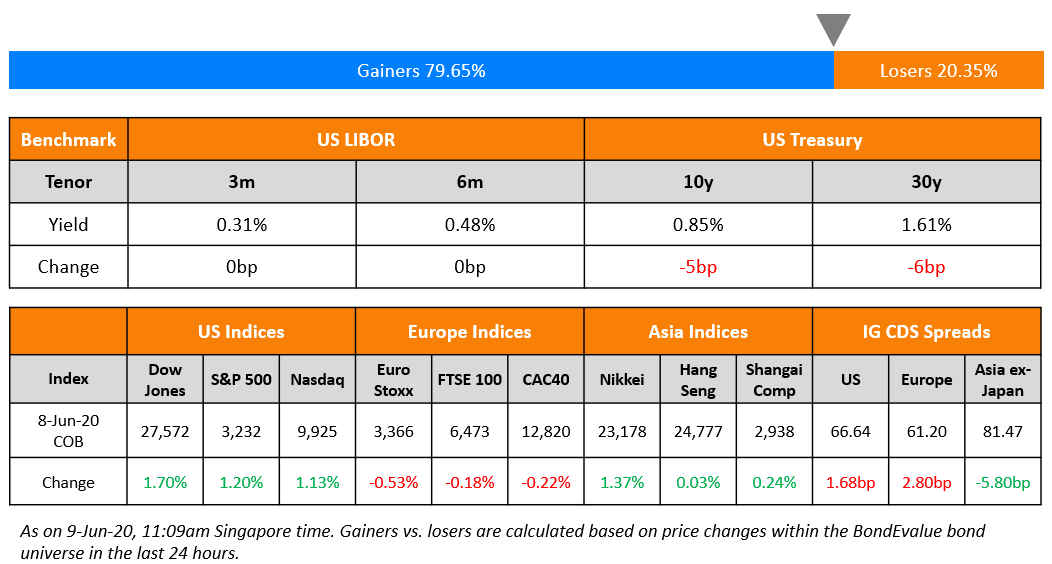 Monday saw an extension of the rally sparked by Friday's NFP jump with US stock indices returning to profit for 2020. European stocks saw some profit taking following last week's huge gains. Long dated US treasuries recovered a little after the sharp sell off on Friday. Market also took comfort that the Fed lowered the minimum loan amount and raised the maximum loan limit under its Main Street Lending Program. It also extended loan terms to five years from four years and will allow businesses to defer principal payments for the first two years of the loan, instead of the first year. On the other hand, more than two months have passed since the announcement of the Fed's bond buying program on 23 March and the Fed has yet to launch the programme, having limited its purchases so far to exchange traded funds that track the corporate bond market. Analysts and investors say this suggests the central bank is facing teething problems in its plans to buy up individual companies' debt directly from the secondary market. Asian dollar bond credit spreads extend their decline for a tenth consecutive session.
New Bond Issues
UPL $ 10yr @ T+435bp area
China Fortune Land Dev. $ 300 mio 2yr @ 7.5% area
Shanghai Construction Group $ 5yr @ T+245bp area
Ronshine China $ 3.5NC2.5 @ 7.95% area
Indian agrochemical company UPL's new bond, rated Baa3/BBB-, has launched alongside a tender offer for its $500mn 3.25% 2021s at par. The 2021s are currently trading at 99.875 on the secondary markets. According to Economic Times, the company is looking to raise $600mn via the new 10Y bonds. "We also expect UPL to focus on deleveraging to retain its investment-grade rating and not undertake any large acquisitions, at least in the next two to three years," said Fitch in its recent ratings report on the proposed bonds.
Korea Electric Power Corp (Kepco) raised $500mn via 5Y green bonds at a yield of 1.188%, 75bp over Treasurues and 45bp inside initial guidance of T+120bp area. The bonds, expected to be rated Aa2/AA, received orders of over $5.2bn, over 10x issue size. The South Korean government owns 51% of Kepco.
China real estate company Central China raised $400mn via 3.2Y non-call 2.2Y bonds at a yield of 7.8%, 55bp inside initial guidance of 8.35% area. The bonds, expected to be rated BB-, drew orders over $3.5bn, 8.75x issue size. The company last raised $300mn in February via 364-day 6.875% bonds, which are currently trading at a yield of 6.27%.
Another Chinese property developer, Greenland Holding Group raised $500mn via 2.5Y non-put 1.5Y bonds at a yield-to-put of 6.45%, 55bp inside initial guidance of 7% area. The bonds, expected to be rated Ba2, received orders over $4bn, 8x issue size.
Hong Kong-based trust Champion REIT raised $300mn via 10Y bonds at a yield of 3.114%, 220bp over Treasurues and 40bp inside initial guidance of T+260bp area. The bonds, expected to be rated Baa1, received orders worth $1.8bn, 6x issue size.
Rating Changes
Fitch Downgrades ADCB's Subordinated Notes to 'A-'; Removes from UCO
Fitch Places HT Global's 'BB-' IDRs on RWE on Hexaware's Proposed Privatisation
GE Raises $3 Billion via Tap of 2030s and 2050s
American conglomerate General Electric tapped the primary bond markets with a tap of existing bonds. It raised $1.5bn via a tap of its 4.4% 2030s, priced at 105.037, 290bp over Treasuries and $1.5bn via a tap of its 4.35% 2050s, priced at 100.176, 270bp over Treasuries. According to Reuters, GE said the reopening was in response to a reverse inquiry from a long-term strategic investor seeking to buy the company's debt. The company expects to use proceeds towards reducing shorter-duration debt and the new bond issue is expected to be leverage neutral over time.
For the full story, click here
Commerzbank & ABN Amro Sell Euro AT1s, Both Issues Greatly Oversubscribed
European lenders Commerzbank and ABN Amro tapped the primary bond markets with Euro-denominated Additional Tier 1 (Term of the day, explained below) or Contingent Convertible (CoCo) bonds. Dutch bank ABN Amro raised €1bn via perpetual non-call 5.25Y AT1s at a yield of 4.375%, a whopping 112.5bp inside upper end of initial guidance of 5.25-5.5%. Final orders exceeded €8bn, over 8x issue size. The bonds, expected to be rated BBB- by Fitch, have a coupon reset of 5-year Mid-Swaps plus a spread of 467.4bp, reset every five years, if not called.
German lender Commerzbank raised €1.25bn via perpetual non-call 5.3Y at a yield of 6.125%, 87.5bp inside initial guidance of 7% area. The bonds met with strong investor demand as orderbook stood at €8.5bn, 6.8x issue size. The bonds, expected to be rated Ba2/BB-, have a coupon reset of 5-year Mid-Swaps plus a spread of 636.3bp, reset every five years, if not called.
For the full story, click here
Investment Grade Bonds to Outperform Treasuries, Predicts Survey
Investors have shown a renewed confidence in the market as lockdowns ease, much against the gloomy outlook caused by the pandemic. To understand the market sentiment, Absolute Strategy Research surveyed more than 200 asset managers who collectively overlook $20tn worth of assets, as reported by the Financial Times. The summary of the survey findings are as follows.
Probability of investment grade corporate bonds outperforming Treasuries over the next year stands at 66.67%
High-yield corporate bonds will outperform top-rated debt with a 55% confidence
There was a 64% chance that global stock returns over a year would be higher than the bond returns
2Y and 10Y Treasury yields would be higher in 12 months after falling to a record low
Business confidence would increase over the year
US unemployment would fall
The probability of a global recession was 81% over the next 12 months. This is the highest recorded reading
The results of the survey indicated a high confidence among the respondents and revealed that even junk rated companies are likely to tide over the Covid-19 crisis. Investors seemed to back the unprecedented stimulus packages rolled out by the central banks. The ECB had made a "no limits" commitment in March while the US Fed Reserve showed willingness to buy junk rated bonds for the first time.
For full story, click here
Indian State-backed Funds Swell as Investors Remain Wary of Riskier Debt
Investors received a rude shock in April when Franklin Templeton shut six of its credit funds. Such an action by a large fund has raised ongoing concerns among investors. The sentiment was evident in the investment pattern in May. Investors preference for safer assets led to a net inflow of Rs 88.7 billion ($1.2 bn) in banking and PSU (state-backed) funds during the month of May, while equity funds received only Rs 53 billion ($702mn). While the inflow into banking and PSU funds was the highest since April 2019, the inflow into equity funds was the lowest in 2020. According to AMFI data, there was a net outflow of Rs 51.7 billion ($684.7mn) from credit risk plans in May. The look out for safe funds resulted in a 50% increase in the inflow into debt funds and a total of Rs 637 billion ($8.44bn) were invested in the month. RBI had also infused Rs 500 billion ($6.62bn) into mutual funds to contain the effects of Franklin locking $4.1 billion worth of funds.
For full story, click here
Occidental Debt Restructuring
Oil major Occidental Petroleum is considering a debt restructure by reducing its stake held in the oil and natural gas fields located in Oman. As per Bloomberg, the company is also open to divesting other assets in the region in its bid to reduce the $40bn debt, availed in part to finance the $38bn purchase of Anadarko Petroleum last year. The oil sector has seen a reversal in its fortunes this year and last year's purchase could be a costly investment. The worst downturn in the oil-and-gas industry in the last 40 years and one of the worst pandemics had led to a huge fall in the company's bond prices in March 2020. The sector is slowly limping back to normalcy and Occidental's bonds have seen a positive upturn. The company's bonds and shares have seen an upward rally over the last few days and the bonds have made it to the list of top performers as seen in the table below.
For full story, click here
Delayed Bond Payment leads to a Credit Rating Downgrade for Dr. Peng
We had reported on Jun 1 that Dr. Peng had extended maturity on its debut bond by 18 months to restructure its ~$422mn bonds. However, such a delayed payment has been considered as a de-facto default by Moody's, which has resulted in a rating downgrade to Caa3 from Caa1 for the largest private telecommunication player in China. Faced by a mounting debt, intense competition and the ongoing slowdown, Dr Peng joined distressed Chinese borrowers and was forced to seek temporary debt reprieve. Dr Peng's debt-to-asset ratio stood at 95% in March 2020 against 69% in the previous year and its cash from operating activities shrank to 278.3mn yuan from 869.1mn yuan in the last year – a drop of 312.2%. The company has a debt of $827mn and has bonds and loans worth $338mn due in 2021. Moody's has a negative outlook for the company and United Credit Ratings Co., a Chinese credit risk agency, has placed the company on watch.
For full story, click here
BEV Term of the Day
Additional Tier 1 Bonds
Additional Tier 1 (AT1) bonds are hybrid securities issued by financial institutions to meet their regulatory capital requirements. AT1s typically carry a provision wherein the instruments can be fully or partially written-down or converted to equity if the issuing bank's capital ratio falls below a certain threshold. This is why AT1s are also known as contingent convertibles (CoCos). Some of the key features of AT1 bonds are:
They are subordinated in nature, and the first line of debt to incur losses
They have a perpetual maturity, usually with a call option
Coupons are usually higher as compared to other debt by the issuer, to compensate investors for the higher risk AT1s carry
Coupons can be cancelled at the issuer's discretion
They can be written-down or converted into equity on the occurrence of a "trigger event"
For more on AT1s: Understanding Contingent Convertible or CoCo Bonds
For more on the impact of call dates and resets: Perpetual Bonds – Impact of Call Dates and Resets on Prices
Talking Heads
On the Fed's corporate bond facility – Hans Mikkelson, analyst at Bank of America
The Fed has announced their plan of buying corporate bonds on March 23. But more than two months later, the Fed has yet to launch the programme. "It is taking too long.", said Hans Mikkelson. "If they don't deliver, I think they lose credibility," he said. "It doesn't matter for this crisis. This crisis is over. It's about the next crisis."
At a Senate hearing in May, chairman Jay Powell said that the facility would be up and running by the end of that month. He added that this schedule could slip "a day or two into June". But so far, no firm launch date has been announced.
On Asian companies facing higher risk of default – Sean Hwang, Moody's analyst
Late last month, Moody's forecast the default rate on high-yield debt issued by non-financial Asia-Pacific firms would climb to 6.4% by the end of this year, from 2.3% in March. "High-yield companies with weak credit quality will likely have increasing difficulty refinancing offshore bonds, given coronavirus induced market volatility and investors' heightened risk aversion," Moody's analyst Sean Hwang said in a note. "We expect investors to be increasingly selective in managing their high-yield exposure, which will weaken low-rated companies' access to funding."
On the stability of Hong Kong's financial system – China Banking and Insurance Regulatory Commission (CBIRC) Spokesperson
In response to sanction threats from the US, a CBIRC spokesperson said that Hong Kong is capable of responding to all kinds of risks and challenges because of its sound legal and financial systems, numerous educated financial professionals, and a strong economic foundation.
The Hong Kong Monetary Authority has also made reassurances about maintaining status quo in Hong Kong, by ensuring the free flow of capital and free convertibility of the Hong Kong dollar, stressing that there was no plan to make changes to the well-established peg.
On GCC asset managers during the pandemic – Vanessa Robert, a vice president at Moody's
According to Moody's, asset managers in the Gulf will remain "somewhat resilient" to the twin-shocks of the pandemic and volatility of oil prices. "The GCC sector's resilient inflows partly reflect its exceptionally strong performance last year…", said Vanessa Robert. In the future, inflows for asset managers will be supported by "affluent clients, who generally have higher risk tolerance and [a] longer investment horizon," Ms Robert said. "We expect GCC investors to maintain a risk-averse stance in the months ahead," Ms Robert said. Smaller asset managers, which do not benefit from the support of larger parent companies, will be more vulnerable to increased competition during the pandemic.
On the possibility of Mexico losing their investment grade credit rating – Luis Gonzali, a portfolio manager at asset manager Franklin Templeton
Mexico is facing its deepest recession in decades and it may follow Pemex in seeing its credit rating relegated to "junk" territory because of COVID-19. "Losing the investment grade rating is a real risk and now something investors increasingly think about," said Luis Gonzali. "It could be the event that defines the presidency of Lopez Obrador and leads to investors fleeing Mexico fast, and at a large scale." All three credit rating agencies have already downgraded Mexico and are signalling further downgrades.
Top Gainers & Losers – 9-Jun-20*