The month of July was broadly positive for bondholders with 67% of dollar bonds in our universe delivering a positive price return (ex-coupon). Investment grade (IG) bonds outperformed, with 77% of all IG dollar bonds ending July in the green vs. 51% of high yield (HY) bonds that ended the month higher. Looking at Treasury yields, we saw an upmove in the short-end as the FOMC raised the Fed funds rate by 75bp on July 27, taking the YTD cumulative increase to 225bp across four hikes. However, moving further out, we saw a broad shift down in the Treasury curve with yields across the 5Y and 10Y move down by ~35bp. Further, recession fears resurfaced (although Fed Chair Jerome Powell insisted against it) as the US GDP fell for the second consecutive quarter (-0.9% in Q2, -1.5% in Q1) and the Treasury curve inverted – the 2s10s ended July at negative 22bp vs. positive 4bp at the start of July, as can be seen in the interactive chart below.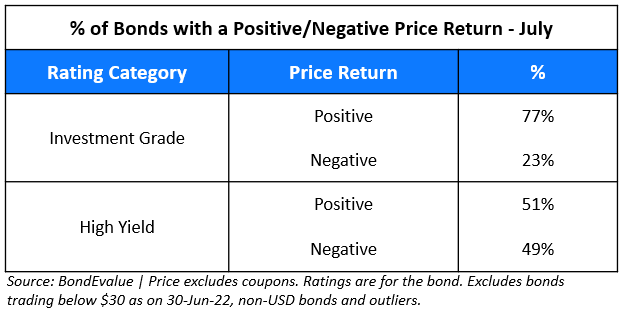 As the 10Y Treasury yield eased 35bp in July, investment grade dollar bonds - more sensitive to benchmark yields compared to high yield bonds - had a positive month with 77% of all IG dollar bonds in our universe ending in the green.  Among the prominent gainers within the AAA to A- category were bonds from
Amazon, Bank of America,
and
UAE
. From the BBB+ to BBB- category, gainers included
General Electric
, whose 4.1% Perp rallied 10.87% to 76.75 cents on the dollar, and
Goldman Sach's
3.8% Perp, which also moved up 10.74% to 87 cents on the dollar to currently yield 7.93%. The losers from both rating categories were dominated by Chinese names including state-backed companies such as
China Cinda, China Great Wall, Huarong, China Jinmao
as well as higher-rated property developers such as
Country Garden,  Central Plaza (Beijing Capital)
.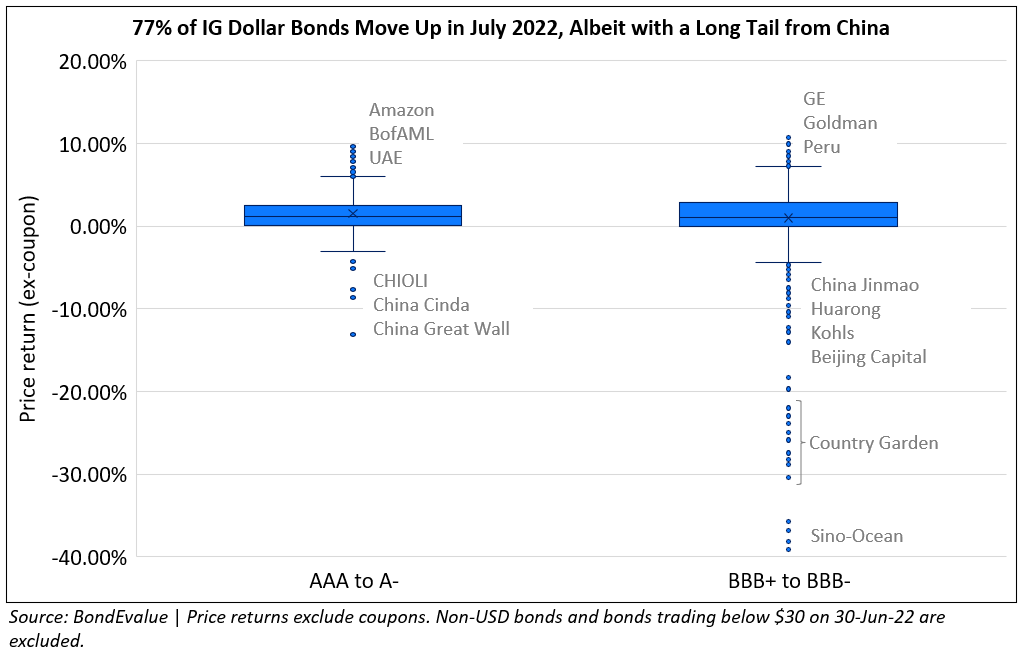 High yield bonds on the other hand had a mixed month with 51% of bonds delivering a positive price return in July vs. 49% that ended the month lower. Among the notable gainers were Russian bonds, with the sovereign's 2023s up 37% and corporates such as Gazprom and Lukoil's bonds up ~10-20%. El Salvador's bonds rallied 26% on the debt buyback announcement. Energy companies such as Pemex and Talen also saw bonds gain 11-12%, Casino operator Sands China's bonds moved up 14% as the company received a $1bn lifeline from parent Las Vegas Sands. Among the losers, Bed Bath tanked 48% on weak earnings, while the Ukraine sovereign's bonds fell 40% along with bonds of Ukrainian corporates such as Naftogaz and financer Kondor. Chinese real estate names such as Central China, Road-King, Seazen, CIFI, China SCE, Studio City, Greenland, KWG and Shui On fell sharply as the liquidity crisis in the sector worsens. Scroll lower to the "Gainers & Losers" section for further details.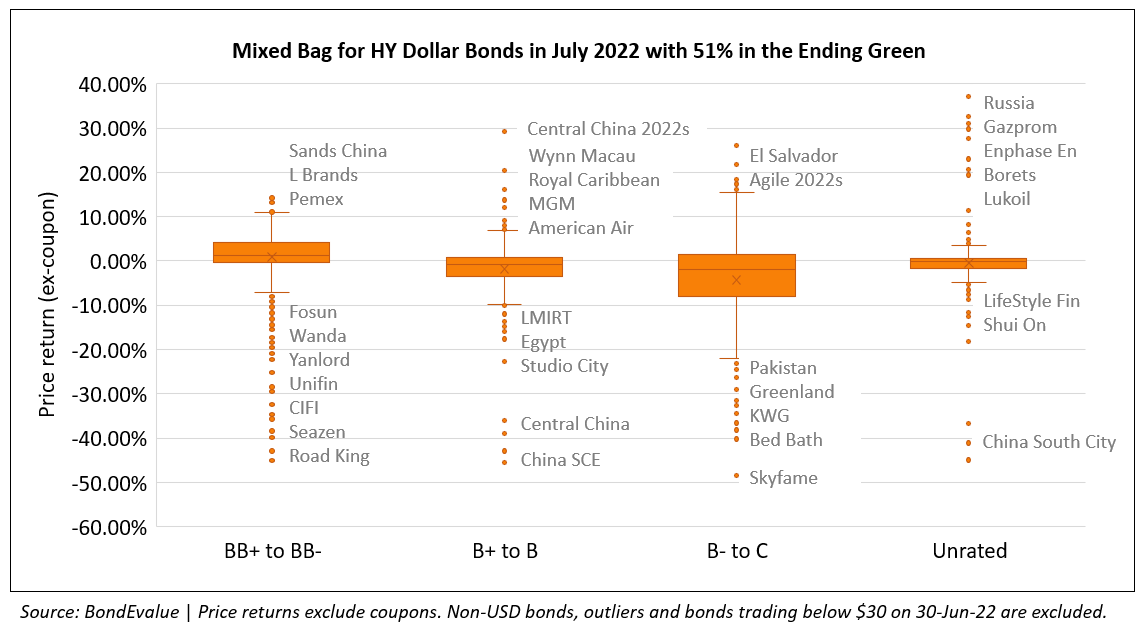 Issuance Volumes
Global corporate dollar bond issuances remained slow, standing at $137.4bn for the month of July. This represents a 30% decline YoY and a marginal drop of 0.4% MoM. Amid uncertain market conditions, persistent inflation and an anticipation of further rate hikes, only 2% of the issuances came from the high yield space while 97% of the issuances came from the investment grade space. The balance 1% were unrated deals.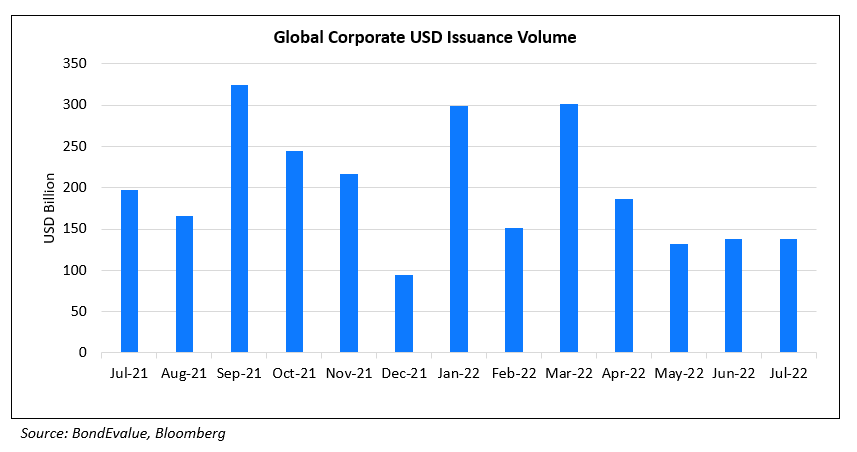 APAC ex-Japan & Middle East G3 issuance stood at $11.25bn, down 29% MoM and 70% YoY. Investment grade issuances dropped 13% MoM to $10.88bn while high yield issuances dropped by a substantial 81% to a meagre $366mn. Monthly issuance volumes have fallen consecutively for 4 months since April 2022, reflecting a prolonged negative outlook towards the global macroeconomic environment amid rising interest rates and hawkish central banks.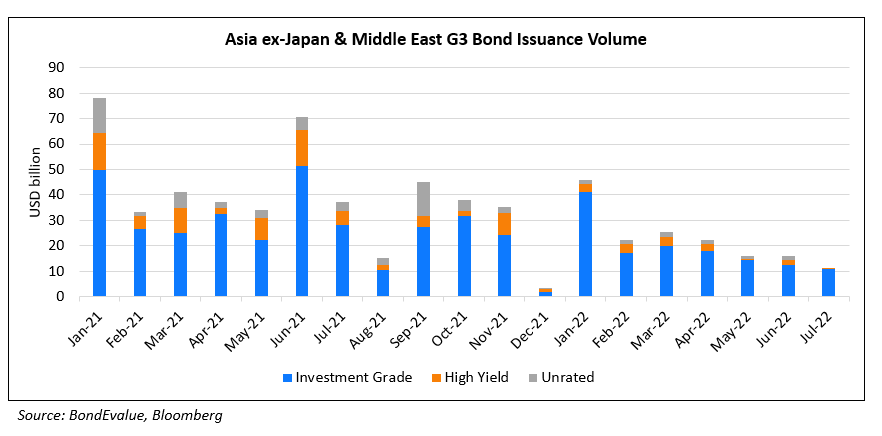 Largest Deals
The largest deals in July 2022 were dominated by American banking majors led by Bank of America (BofA), raising $10bn via a three-tranche deal, followed by JPMorgan's $8bn dual-trancher. Wells Fargo and Morgan Stanley also notably raised $7.25bn and $4bn from two-tranche deals following their Q2 earnings release.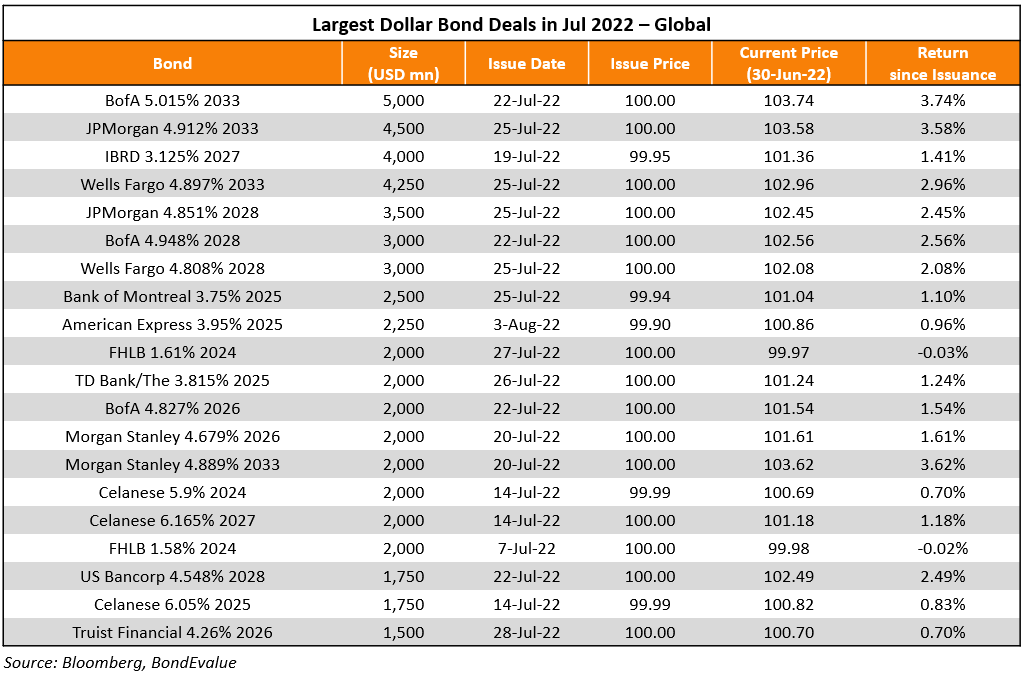 In the APAC & Middle East region, the largest deals were led by Lenovo, raising $1.25bn in a two-tranche deal, followed by POSCO and TSMC Global, raising $1bn via dual-tranchers. Apart from POSCO, there was a noteworthy increase in dollar bond issuances from Korea in the last month with new bond deals from Korea Hydro & Nuclear Power (KHNP), Korea Housing Finance Corporation (KHFC), KOGAS, LOTTE and LG Chem.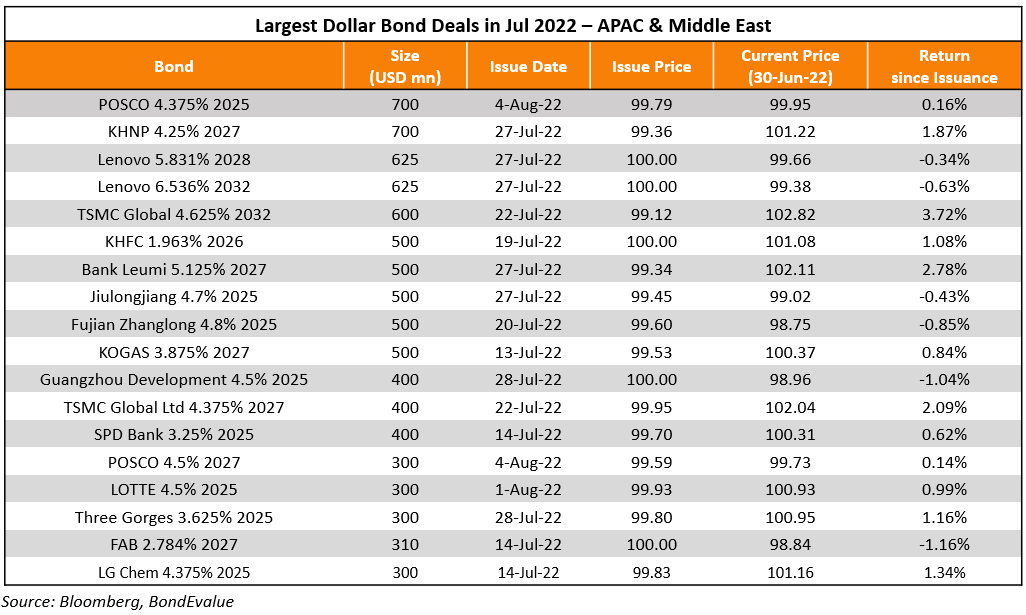 Top Gainers & Losers
Among the top gainers globally, Russia's sovereign dollar bonds due 2023 gained 37%, followed by state-owned energy company Gazprom and Gaz Capital, whose 2026-2027s rallied 31% each. Other Russian oil & gas companies such as Borets and Lukoil also saw their bonds rise on resilient energy prices. The US Treasury allowed settlements of Russia CDS (Credit Default Swaps) and the EMEA Credit Derivatives Determinations Committee (EMEA DC) to hold an auction to settle the CDS. Some offshore creditors of Gazprom received payments on their bonds during the month. El Salvador's bonds rallied on the buyback announcement of some of its bonds. Enphase Energy and GE's bonds gained on strong Q2 earnings. Mclaren Finance's bonds rose on plans to raise $620mn via a new bond issue in a bid to refinance existing bonds and boost its balance sheet. Other issuers whose fortunes are closely linked to crude oil like Pemex, and Talen saw their bonds trade higher as oil prices remained steady at higher levels. State-owned Sri Lankan Airlines' bonds rose 15% as it paid out $175mn in interest payments. Casino operator Sands China bonds rallied 14% as it got $1bn in loan support from parent Las Vegas Sands.
Amongst the top losers globally were bonds of Bed Bath & Beyond, which declined 48% on weak earnings and a rating downgrade. Ukraine's government bonds fell sharply on considerations of a consent solicitation to suspend debt repayments for the next 2 years and its rating getting downgraded from CCC to C by Fitch. Ukraine's state-owned energy companies Naftogaz, and financing company Kondor's dollar bonds fell 33% during month as Naftogaz is on track to default on international bonds after creditors have rejected its debt moratorium proposal. The grace period for its $335mn bonds has already ended. Other Ukrainian companies such as MHP, Metinvest, Ukreximbank, Ukraine Railways and Kernel also traded weaker. Indonesian real estate developer Jababeka's bonds collapsed 32% on concerns of refinance its $300mn senior notes. Sri Lanka's July 2022 bonds fell 23% through the month. Pakistan's sovereign dollar bonds and its water & power authority (WAPDA's) bonds continued to decline in July, with S&P revising Pakistan's outlook to negative from stable on weak externals. Offshore drilling company Transocean's bonds also declined significantly as it was downgraded to CCC- from CCC by S&P with a negative outlook on likely restructuring.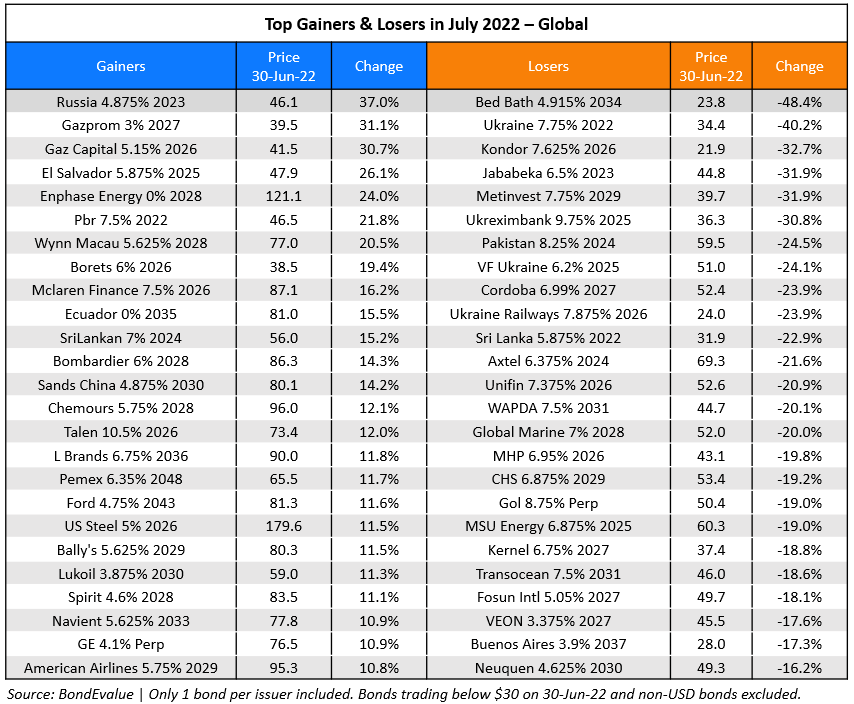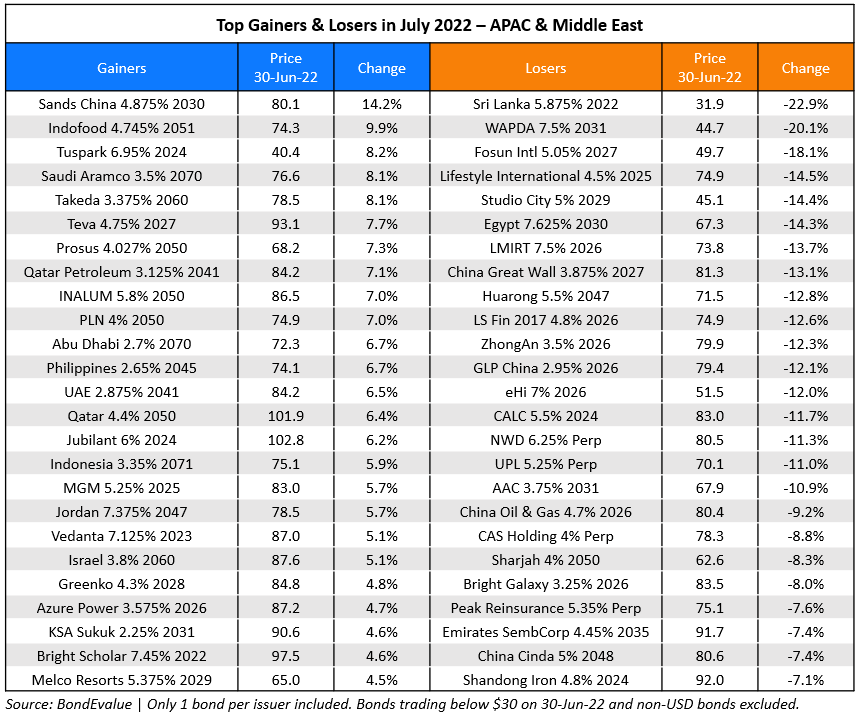 Given the extreme volatility seen in Chinese property developers' dollar bonds, we have excluded those bonds from the Global and APAC & Middle East tables. Instead, we have put together a separate list of top gainers and losers within the Chinese real estate space, added lower down.
Among the gainers were 2022s and 2023s of certain developers like Central China, Road King and Agile. Agile redeemed an RMB 1.5 ($223mn) 6.2% onshore privately placed bond in mid-July, offering some hope to its offshore bondholders. The list of losers was far longer, as several developers received credit rating downgrades through the month. Among the biggest losers were Skyfame Realty's bond due early July, which lost ~85% to fall to 15 cents on the dollar. Skyfame warned of a default after citing distressed liquidity, and said that it now seeks provisional liquidation and debt restructuring. CIFI Holdings' bonds tanked 57% on a slump in property sales and its rating getting downgraded from Ba2 to Ba3 by Moody's, which placed the developer on review for further downgrade. Seazen group, KWG and Central China ratings were also downgraded, pushing their bonds lower. Sino-Ocean's dollar perpetual bond fell 40% as Moody's placed the developer's perpetual bonds' Ba2 rating on review for a downgrade.
To support the debt-ridden and distressed real estate sector, China is said to set up a $44bn fund and the PBOC on its part is lining up $148bn worth of loans to prevent a hard landing for its real estate sector. These announcements were made at the end of July 2022, with little detail available. As the crisis and potential bailout unravels, watch this space for updates.